Aiming High
The ASPIRE Nurse Scholars program paves the way for the next generation of nurses
CharRay Washington was a sophomore in high school when the possibility of becoming a nurse first crossed her mind. "I became interested in nursing when I had the opportunity to shadow my cousin, who is a registered nurse," she recalls.
Her interest blossomed after she joined Cleveland Clinic's ASPIRE Nurse Scholars program. Conceived by Cleveland Clinic benefactors Lorie and Nick Howley and funded by the Howley Foundation and Cleveland Clinic, ASPIRE is an enrichment program for high school juniors from underrepresented populations in Northeast Ohio who are interested in pursuing a nursing career.
Washington was a member of the first cohort of 25 students in ASPIRE, launched in 2017. The program will welcome its fifth cohort in the spring. Participants are selected based on their GPA, a short essay, recommendations and an interview.
"We look for students who are resilient and passionate," says Program Coordinator Daria Sheafe, MSN, RN. "We've created a holistic program that helps them navigate potential barriers to completing their nursing degree."
In addition to learning about the nursing profession and the life of a caregiver, students are guided in college readiness and obtain valuable life skills. Following high school graduation, they undergo training to become Patient Care Nurse Assistants, which allows them to work at Cleveland Clinic while completing college prerequisites and attending nursing school.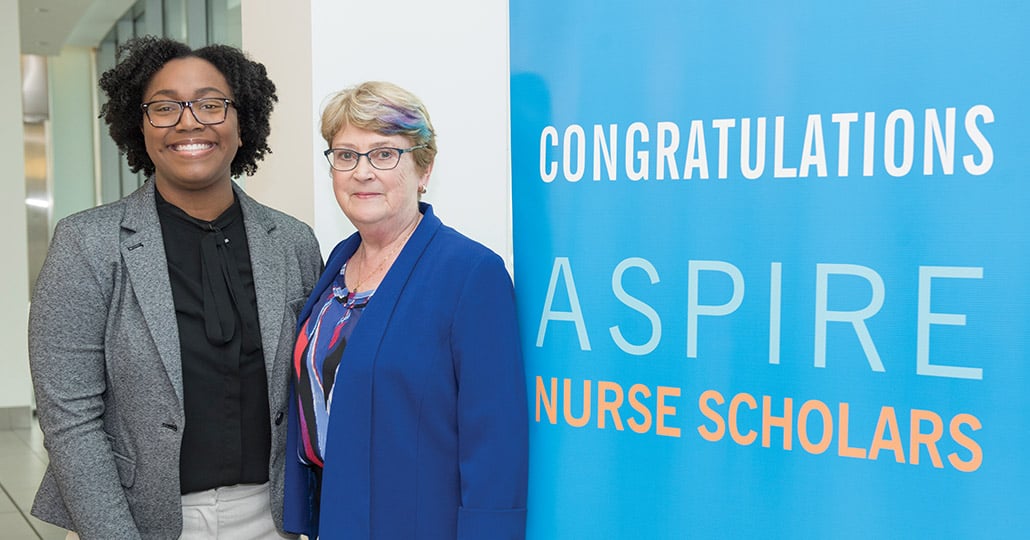 In providing these opportunities, ASPIRE seeks to address the underrepresentation of racial and ethnic minorities in nursing. More than 30 percent of the U.S. population is Black/African-American or Hispanic/Latino, according to the Census Bureau — yet less than 13% of nurses fall into those categories.
"It's essential that we diversify the pipeline of our future healthcare workforce, including nurses, to help address the disparities in care received by minorities," says Cleveland Clinic's Chief Caregiver Officer Kelly Hancock, DNP, RN, who previously served as Cleveland Clinic's Executive Chief Nursing Officer. "With ASPIRE, we're creating that pipeline from within the community."
Since the formation of their foundation nearly 20 years ago, Lorie and Nick Howley have worked to help hundreds of students receive the best education possible, regardless of economic means.
"We feel strongly that a quality education is the best way to address social inequality and promote economic mobility," says Nick Howley, Executive Chairman of TransDigm Group Inc. and a member of the Cleveland Clinic Board of Trustees. The Howleys also are members of Cleveland Clinic's 1921 Society, which honors benefactors who have contributed $1 million or more.
"We find it so inspiring to meet with the ASPIRE students and to see how hard they work," Nick Howley says. "We want them to be able to complete their nursing degrees debt-free and poised for success."
"I feel confident when I'm demonstrating skills and interacting with patients, more so than many of my peers in nursing school who did not have the ASPIRE experience."

CharRay Washington
The Howley Foundation is significantly increasing its support to expand ASPIRE. Cleveland Clinic is partnering with Ursuline College's Breen School of Nursing, one of the most respected nursing programs in the country, to provide ASPIRE students with access to a five-year, on-campus program.
"We greatly appreciate the generosity of the Howley family," Sheafe says, "and we're eager to welcome the next generation of nurses to our ranks."
CharRay Washington is on track to be among them. In May, she'll graduate from Cuyahoga Community College with an associate degree in nursing. She's grateful for ASPIRE and the support that she has received, especially from mentor Tiffany Ciminello, Assistant Nurse Manager at Cleveland Clinic Hillcrest Hospital.
After Washington obtains her nursing license, she hopes to work at Cleveland Clinic while pursuing a bachelor's degree in nursing from Cleveland State University. She ultimately plans to become a certified registered nurse anesthetist and pursue a doctor of nursing practice.
"I feel confident when I'm demonstrating skills and interacting with patients, more so than many of my peers in nursing school who did not have the ASPIRE experience," Washington says. "ASPIRE changed my life."