THEN NOW NEXT
Bionic Eyesight
Then
Back in the 1970s, Steve Austin, TV's "SIX MILLION DOLLAR MAN," kept viewers enthralled as he used his bionic body parts to work as a government secret agent. His bionic eye had a zoom lens and infrared capabilities for night vision and thermal imaging. In real life, an artificial vision system was developed at the University of Utah by William Dobelle, PhD, and his mentor Willem Kolff, MD, PhD, formerly of Cleveland Clinic, who also built the first artificial heart.
Now
The bionic eye is real (albeit without a zoom lens, night vision and thermal imaging). Retina surgeons Aleksandra Rachitskaya, MD, and Alex Yuan, MD, PhD, of Cleveland Clinic's Cole Eye Institute have implanted the ARGUS II RETINAL PROSTHESIS SYSTEM in profoundly blind patients with stunning results, providing artificial vision. The process involves placing an electrode array against the surface of the retina with a retinal tack and suturing a coil to the outer layer of the eye. Patients wear glasses that have a tiny camera mounted on the nose bridge that communicates with a video processing unit worn on the waist. The processing unit digitizes images and sends them wirelessly to the implant on the retina.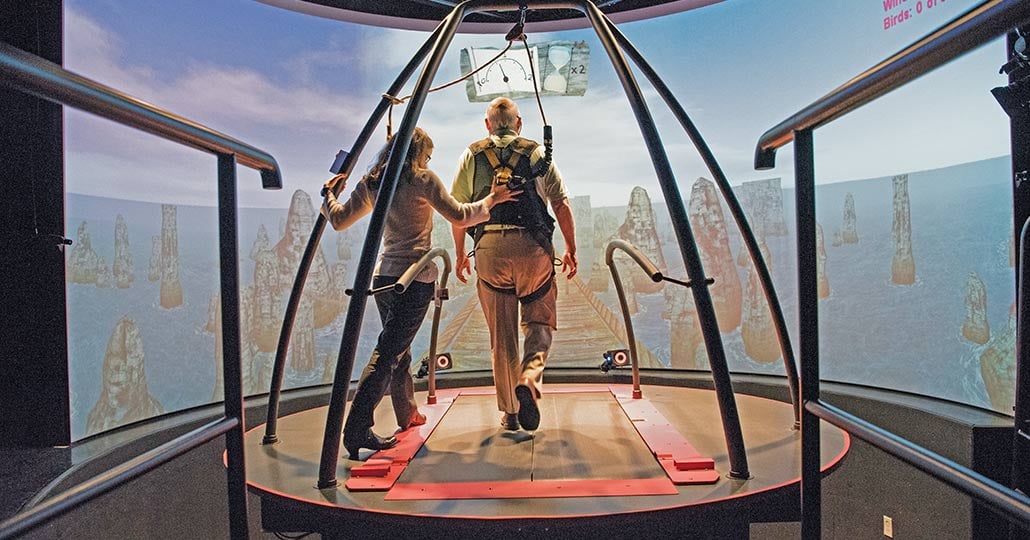 Next
Drs. Yuan and Rachitskaya are working on novel visual rehabilitation approaches for patients with retinal prostheses.
Together with a biomedical engineering team led by Jay Alberts, PhD, they've tested a virtual rehabilitation protocol using the CAREN (COMPUTER-ASSISTED REHABILITATION ENVIRONMENT) SYSTEM, helping patients' balance as well as their vision.
Patients with macular degeneration may soon benefit from novel retinal prosthesis research.
Researchers also are exploring the use of gene therapy as a way to rescue and restore function to affected cells in the retina and preserve vision. Cole Eye Institute is participating in gene therapy trials to help patients with inherited retinal diseases.
It's no longer the stuff of science fiction — and philanthropic support is vital to continue making progress. Additional funding will advance these novel treatments and interventions more rapidly, giving a brighter future to patients in need.