GIFT PLANNING
The Gift of More Time
The Ellen H. & F. Gene Braun Fellowship will support advanced imaging in cardiovascular medicine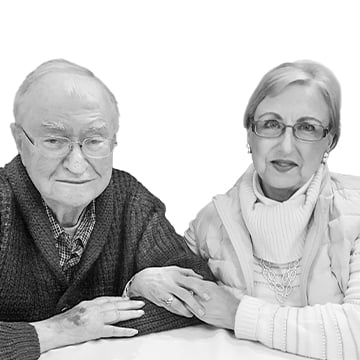 Retired Dallas ophthalmologist F. Gene Braun, MD, was diagnosed with mitral valve prolapse in May 2014. His cardiologist wanted him to schedule an appointment with a local surgeon right away.
Dr. Braun and his wife, Ellen, weren't convinced. "Gene and I are footloose and fancy-free, and we can go anywhere in the world," Ellen told the cardiologist. "Where would you go with this problem?"
"He didn't even blink," Ellen recalls. "He said, 'Cleveland Clinic.' I said, 'Fine, sign us up.'"
In less than a week, they met with cardiologist Brian Griffin, MD, Section Head of Cardiovascular Imaging at Cleveland Clinic, who soon played a crucial role in their lives.
Dr. Griffin was somber when he went over the results of Dr. Braun's tests: congestive heart failure due to mitral valve prolapse. He also gave them hope. He had persuaded a surgical colleague to perform the high-risk operation that Dr. Braun needed.
The procedure was successful. "I knew that Dr. Griffin's effort to push for the surgery gave us four years we would not have had together," Ellen says. "And in those four years, we were able to do things and see things that we would not have been able to do if Dr. Griffin hadn't intervened."
Those activities included driving 2,100 miles each way to their vacation home near Canada's Banff National Park. "We didn't even turn on the radio," Ellen says. "We talked the whole way."
Dr. Braun had multiple health issues over his lifetime, including a pulmonary condition that evolved into pulmonary fibrosis. He passed away October 28, 2018, the day after his 86th birthday.
In honor of Dr. Griffin's care and in memory of her husband, Ellen made a blended gift, using outright and planned gifts, to establish the Ellen H. & F. Gene Braun Fellowship to further the study of advanced imaging in cardiovascular medicine, and the F. Gene Braun, MD, Lectureship to promote ongoing worldwide education and collaboration in cardiovascular medicine.
The fellowship symbolizes the couple's shared passion for continuing education, and the lectureship is a legacy for her husband, who had no children of his own. "I am so happy this legacy will live after him," Ellen says, "so he will never be forgotten."
Many Ways to Give
Through estate and tax planning, you can provide for Cleveland Clinic and your heirs in ways that maximize personal, family and philanthropic goals while also minimizing cost.
Options include:
Gifts of appreciated property
Gifts through a will or trust
Gifts through beneficiary designations (i.e., retirement plan or life insurance policy)
Gifts that provide income