Research
How to Build a Better Vaccine
Jae Jung, PhD, had a head start on the pandemic.
A foremost authority on emerging viruses and cancer-causing viruses, he was among the first researchers to respond to recent mosquito-borne and tick-borne virus outbreaks. That experience is serving him well now as he develops a COVID-19 vaccine.
"This is a cunning virus, especially because it can be transmitted by individuals with no symptoms," says Dr. Jung, who recently joined Cleveland Clinic to lead its new Center for Global and Emerging Pathogens Research. "But as virologists, we can be cunning, too."
Dr. Jung's vaccine utilizes nanoparticles that "trick" the coronavirus into using its own surface protein to produce antibodies that block viral infection. The hope is that this approach will have fewer side effects than other vaccines, especially among the older population, which is particularly susceptible to COVID-19. If all goes well, the vaccine could be ready for clinical trials in 2021.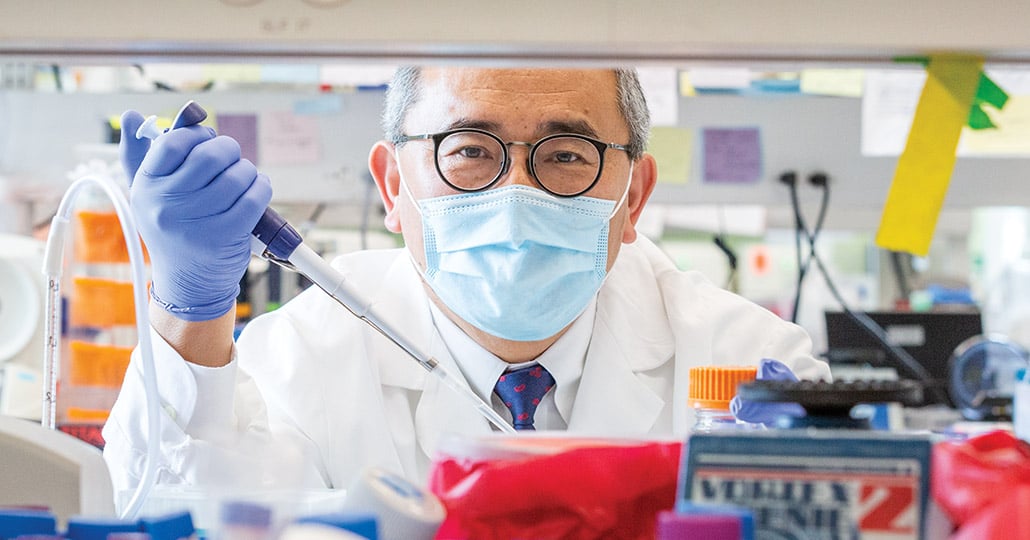 Dr. Jung and his colleagues in the Center for Global and Emerging Pathogens Research are also working to stop the next pandemic — before it starts. "Globalization and global warming have left us vulnerable to widespread disease," Dr. Jung says.
Under the auspices of the new center, scientists and clinicians in Ohio and Florida are collaborating to uncover the mechanisms of infectious agents and expedite critically needed cures and treatments. Because Cleveland Clinic is a research and clinical care enterprise, integrated teams of experts can quickly move ideas from laboratory to patient bedside in a seamless cycle that facilitates discoveries.
Developing stabilized vaccines that don't require refrigeration is a priority. "Most vaccines must be kept cold," Dr. Jung says. "This is a huge problem in underdeveloped nations, where access to refrigeration is an issue. If we can stabilize vaccines, we can save the lives of people around the world who desperately need help."
Why Give?
"So much COVID-19 research still needs to be done, but we need the funds to do it. If we apply for grants, the money won't come in for a year or longer. We can't afford to wait. This research needs to happen today. We count on donor support to allow us to keep looking for the answers that could save many lives."
— Serpil Erzurum, MD, Chair of Cleveland Clinic's Lerner Research Institute