Giving
Operation Face Shield
It was a scene straight out of a spy thriller: On a chilly Sunday afternoon in March, as the outbreak gained momentum, they met at a gas station just off the highway in the middle of Ohio.
Tom Kadavy, Senior Director of Product Development for Cleveland Clinic Innovations, drove down from Cleveland. Jeremy Hook, Director of Global Engineering & Supply Innovation for the Procter & Gamble Company, drove up from Cincinnati. Halfway between their respective hometowns, they compared prototypes for a new face shield.
The protective gear was based on an open-source design created at Case Western Reserve University's Sears think[box]. As Kadavy and Hook studied each other's face shields and discussed adjustments, a stranger pulled up on a Harley-Davidson, intrigued. "Is that for the bug?" he asked.
Indeed.
Two weeks later, after a few more refinements were made, tens of thousands of face shields manufactured by P&G were donated to Cleveland Clinic, ready to provide essential protection for anesthesiologists and other front-line caregivers.
Additional donations of personal protective equipment and vital supplies have also come from many other companies, including Avery Dennison, Sherwin-Williams and Swagelok.
"This is an amazing country," Kadavy says. "There are amazing people here who jump at the chance to help each other. The pandemic has reminded us of that."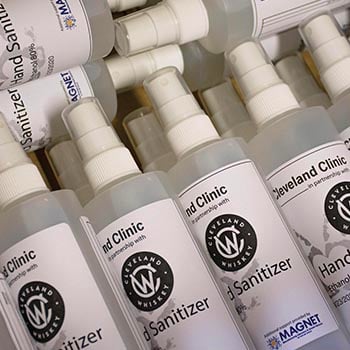 Stepping Up
Many other companies and organizations responded generously, including the following:
Lubrizol teamed up with Nike to donate face shields and partnered with GOJO Industries to donate hand sanitizer.

IBEW Local 38 in Northeast Ohio contributed gloves and N95 masks.

Cleveland Whiskey formulated, blended and bottled hand sanitizer.