Testing is one of the most effective tools for combating an infectious disease outbreak. As the first Cleveland Clinic facility to care for patients with COVID-19, Cleveland Clinic Abu Dhabi responded quickly.
"In early January, we began to notice the emergence of a strange respiratory illness arising in the East that was being carried internationally," says Rakesh Suri, MD, CEO of Cleveland Clinic Abu Dhabi. "Due to the fact that we exist at the crossroads of global travel, we needed to know when a patient in the emergency department or the ICU might be affected. We therefore made the decision to bring testing in-house to the Mubadala network, instituted universal temperature checks and prepared a part of our emergency department to meet the forthcoming surge."
Cleveland Clinic applied many of the learnings from Abu Dhabi across its health system, including the early establishment of drive-through COVID-19 testing sites in Ohio and Florida.
"In-house testing became a necessity as we dealt with a very uncertain national situation around testing," says Ed Sabanegh, MD, President of Main Campus and Regional Hospitals in Ohio. "Within a nine-day period, our laboratory leaders validated a test that put us at the forefront of testing. This test was very labor-intensive, but it was the only way to rapidly deploy for our population."
AI Powers Online Screening Tool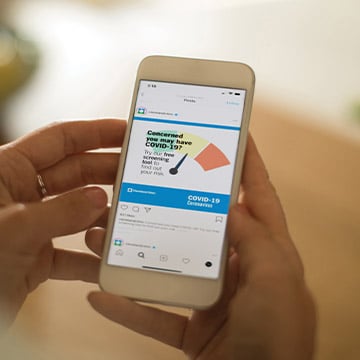 In the early days of the pandemic, Cleveland Clinic was the first hospital system in Ohio to launch a free COVID-19 online screening tool powered by artificial intelligence. The chatbot runs on Microsoft's Azure cloud computing platform and leads users through an interactive self-assessment based on CDC guidelines. The tool, which was one of only a handful in the U.S., drew 145,000 users nationally in its first six weeks.
Users access the online screening tool through the Cleveland Clinic website, answering questions about their symptoms to determine if their risk of COVID-19 is low, medium or high. Those at elevated risk are instructed to follow up with virtual care or call their primary care physician. To date, about 25% of those who have completed the questionnaire have been identified as high-risk.
"The tool is periodically updated to reflect changes in our understanding of COVID-19," says Amy Merlino, MD, FACOG, Cleveland Clinic's Enterprise Chief Medical Information Officer. "It provides some reassurance to people who are unsure about their symptoms and allows us to direct them to an appropriate point of care."