Education
The Coronavirus Classroom
Less than a month after Cleveland Clinic Lerner College of Medicine canceled in-person classes and suspended clinical rotations, the main building of the school's Health Education Campus was converted into a temporary surge hospital. Student instruction quickly pivoted, too.
"With tremendous support from faculty and staff, our students continued to learn in a real-world classroom created by the coronavirus," says Bud Isaacson, MD, Executive Dean of the Lerner College of Medicine.
Students contributed to Cleveland Clinic's pandemic response in many ways. They participated in COVID-19 telemedicine efforts. They supported a COVID-19 research registry. They created web-based COVID-19 educational content for clinicians. They also volunteered with a web-based grassroots organization, Cleveland Pandemic Response COVID-19, to help community members with tasks such as picking up prescriptions, delivering groceries and applying for unemployment.
Students Jacob Knorr, Dan Santana and Megan Sheehan were part of a team that built a compact, easy-to-use emergency mechanical ventilator with $300 worth of readily accessible parts. "The ventilator can't do everything that an ICU ventilator can, but it can keep a patient with COVID-19 in respiratory distress alive," Knorr says. "We hope this solution can help healthcare teams in low-resource settings around the world."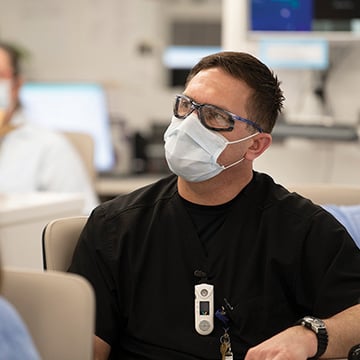 Upskilling 101
Teaching those who serve — a core tenet of Cleveland Clinic's mission — was vital to the health system's pandemic readiness. In the midst of a massive redeployment of health professionals to care for a possible surge of patients, caregivers were upskilled with the most up-to-date information and training on COVID-19-specific care.
Cleveland Clinic created an online learning platform with tracks tailored for providers with varying degrees of intensive care unit experience and providers with limited inpatient experience. An immersive nurse training experience also was developed, complete with simulated skill stations and in-unit observation.
"While bed occupancy was intentionally reduced across the enterprise, we used the gap time to cross-train and educate more than 22,000 caregivers," says James Stoller, MD, MS, Chairman of the Cleveland Clinic Education Institute. "Educating our caregivers put us in the best position for a worst-case scenario."