When Judy Welsh, MD, came across the call from Cleveland Clinic for caregivers to rush to the aid of New York City — the epicenter of the coronavirus outbreak in the United States — she felt she had to go.
She talked it over with her husband, Todd Welsh, MD. Both of them are Cleveland Clinic emergency physicians in Northeast Ohio.
"Is this crazy?" she asked him.
"You should do it," he told her. "You'll learn a lot."
That's them on the cover of this special issue of Cleveland Clinic Magazine, saying goodbye with a masked kiss at the airport in April. Dr. Judy Welsh was one of more than two dozen Cleveland Clinic caregivers who helped out at the New York-Presbyterian health system. Others offered their services in Detroit, London and Abu Dhabi.
On the pages that follow, we salute the selfless heroism of our caregivers around the world on the front lines of the pandemic, always putting patients first. We document the nimble ingenuity of a team of teams that built a temporary surge hospital in less than a month and rose to unprecedented challenges with innovative solutions. We chronicle the race to find a vaccine and effective treatments for the coronavirus. And we celebrate the generosity of the donors whose remarkable outpouring of support has powered Cleveland Clinic's COVID-19 response.
You can sum it up in one word: hope.
We know the history of this pandemic is still being written, and only its first few months are reflected in this magazine. Yet we've already come across so many stories that need to be told. Stories that we want to carry forward as shining examples of how the worst of times brought out the very best in so many of us. Stories that fill us with hope.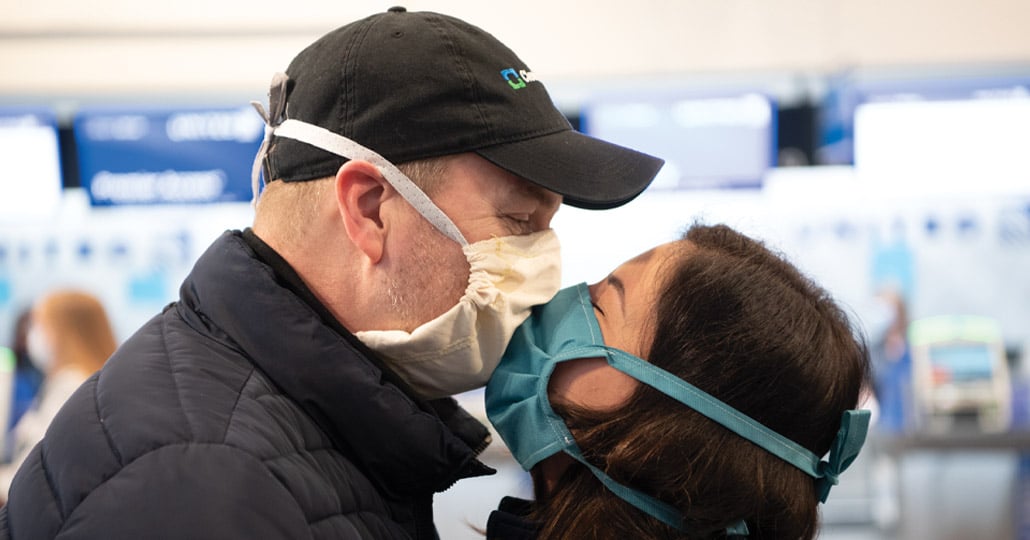 Before her first shift at New York-Presbyterian Brooklyn Methodist Hospital, Dr. Welsh took note of the refrigerated trailer parked outside: a mobile morgue. She lost count of how many patients with COVID-19 and other serious illnesses — "the sickest of the sick," in her words — she treated over the course of an intense week. Her spirits were buoyed by a steady stream of funny memes sent by her husband and their daughter, Samantha, who was safe with Dr. Welsh's parents in Florida.
"It definitely was hard emotionally, but I never felt hopeless," says Dr. Welsh, who at Cleveland Clinic also serves as Associate Chief Experience Officer and Medical Director for Community Paramedicine. "What kept hope alive for me was seeing that every day the number of COVID-19 cases went down just a bit compared to the day before. It felt like we were turning the corner."
As Cleveland Clinic Magazine goes to press in late June, America has turned another corner, with millions taking to the streets to demand accountability, justice and an end to structural racism. As Cleveland Clinic CEO and President Tom Mihaljevic, MD, says in our compelling interview with him: "As surely as COVID-19 is a public health crisis, racism is a public health crisis." Now is the time to eradicate, once and for all, the racial disparities that undermine the health of our patients, our caregivers and our communities, and Cleveland Clinic is committed to leading positive and lasting change over the long term.
If the COVID-19 pandemic has taught us anything, it's that no situation — however bleak, however daunting, however seemingly hopeless — is beyond the abilities of our better angels. My hope is that we never forget this moment. Let's take a lesson from Dr. Welsh and the rest of our caregivers — and move forward with humanity and compassion for others.