Co-Creating Healing Environments
For valuable insights, Cleveland Clinic turns to those who know best: patients
Patients First. It's more than a motto. It's the mantra that informs everything that Cleveland Clinic does, including the design process.
Patients have played a key role in creating new Cleveland Clinic facilities. Their input also is shaping other projects on the horizon, including philanthropy-supported ventures such as a new Neurological Institute building and an expansion of the Cole Eye Institute.
"We want to go beyond patient-centered care," says Cleveland Clinic Chief Experience Officer Adrienne Boissy, MD, MA. "We actually want to co-create these spaces with our patients."
To this end, Cleveland Clinic launched a patient advisory program more than a decade ago. Now known as Our Voice: Healthcare Partners, it has become an invaluable source of unfiltered feedback from patients who bring deep firsthand experience with healing environments.
And let's be clear: Environments can heal. A study published in the journal Science in the 1980s compared outcomes for patients recovering from surgery in hospital rooms with different views: leafy trees versus brick walls. The patients with a view of the trees required fewer painkillers and had shorter postoperative stays.
"When we create new buildings, we put our patients front and center and make sure they have access to the best spaces."

CHRISTOPHER CONNELL, CLEVELAND CLINIC CHIEF DESIGN OFFICER
"Environment is very important for healing," says Cleveland Clinic Associate Chief Experience Officer Julie Rish, PhD. "Anything we can do to bring a sense of peace in the midst of what our patients may be facing can be incredibly powerful. We're partnering with patients early in the design process to learn what matters most, so we can design an experience that will enhance the most meaningful moments."
As Cleveland Clinic continues to expand—in Northeast Ohio, across North America and around the world—the goal is to ensure that no matter where patients are, they'll know when they've entered a Cleveland Clinic facility.
"When we create new buildings, we put our patients front and center and make sure they have access to the best spaces," says Cleveland Clinic Chief Design Officer Christopher Connell.
"Spaces that are positively uplifting are essential.… When you come into one of our buildings, you should feel a sense of calm. You should feel reassured. And you should feel that you're being looked after under the best possible conditions, with everyone working together toward your well-being."
For a closer look at healing environments co-created by Cleveland Clinic patients, read on.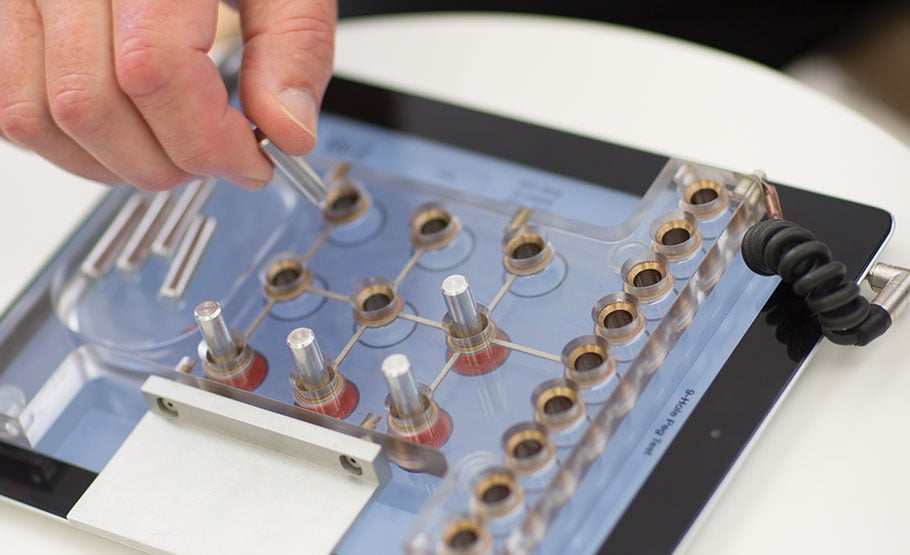 Collaborating on the Best Care: Neurological Institute
A new home for Cleveland Clinic's Neurological Institute promises to bring its strengths in neurology, neurosurgery, psychiatry and rehabilitation together under one roof. The 400,000-square-foot building proposed for Cleveland Clinic's main campus represents a major investment to enhance care for disorders such as Alzheimer's disease, Parkinson's disease, stroke, depression, headache and chronic pain, as well as other subspecialties.
"The new building will centralize and advance the care we provide—in person and through distance-health technology—in an environment specifically designed around the unique needs of people with neurological conditions," says Neurological Institute Chairman Andre Machado, MD, PhD, the Charles and Christine Carroll Family Endowed Chair in Functional Neurosurgery.
The facility also will serve as a magnet for new talent. "We want physicians, engineers and scientists to work under the same roof to accelerate creative friction and discovery," Dr. Machado says.
Patients recently weighed in on preliminary concepts for the building.
"It's an ongoing, open-ended discussion," says Robert Bermel, MD, Director of the Neurological Institute's Mellen Center for Multiple Sclerosis. "We don't just put a finished plan in front of patients and say, 'What do you think?' They're involved from the beginning, long before we put a shovel in the ground."
More than a dozen initial recommendations for the new building came from patients, covering every- thing from restroom logistics to scenic views in rooms where drug infusions may require several hours. Ample parking in close proximity is also high on their list of priorities, given that many have mobility challenges.
"The staff listens to us," says Kemp Jaycox, an MS patient and member of the Mellen Center's patient advisory group. "They're receptive to what we have to say and appreciative of our feedback. Hopefully, all the work that we're doing together now to lay the ground-work for the new building will benefit patients for years to come."
In the existing Mellen Center, patients helped to fine-tune the "waiting room of the future." There, instead of flipping through a magazine before your appointment, you complete assessments on an iPad to measure neuroperformance. Results are immediately available for review with your caregiver.
An expanded "waiting room of the future" will be a centerpiece of the new Neurological Institute building, where advanced technology will capture neurological functions of patients as digital data during the intake process.
"With this opportunity comes a tremendous responsibility to get it right," Dr. Bermel says. "A group of architects or a group of physicians or a group of nurses couldn't do it on their own. It's going to require collaboration, especially collaboration with patients, because they're the ones who know best what they need."
Need
As bodies outlive brains, we face a tsunami of neurological diseases, including Alzheimer's disease, Parkinson's disease and multiple sclerosis. One in 10 people will have a neurological disorder, and 1 in 3 older adults will die of dementia.
Now
Fundraising is underway for the Neurological Institute's new building, with the goal of starting construction by 2021.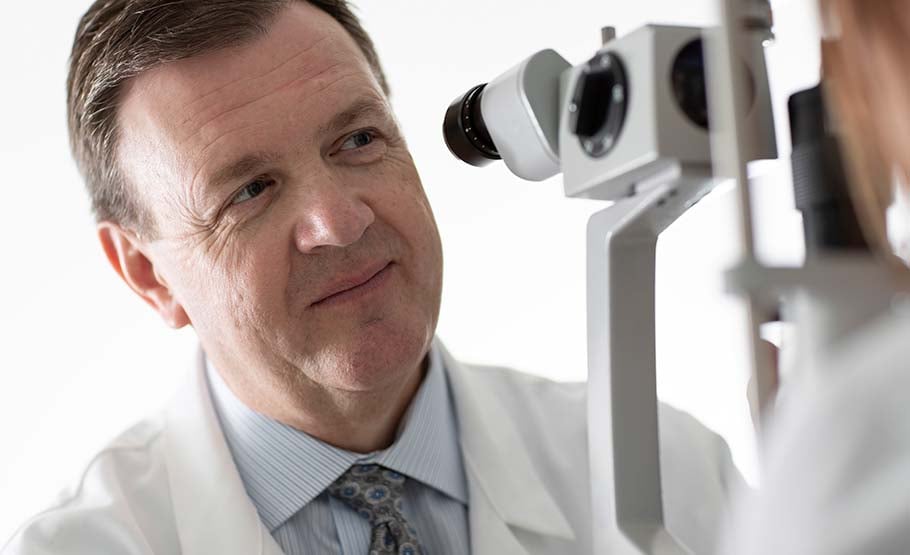 Rising to New Challenges: Cole Eye Institute
Cleveland Clinic's Cole Eye Institute needs room to grow. A planned addition will more than double the size of the existing 130,000-square-foot facility that opened in 1999 on Cleveland Clinic's main campus.
"The current building has served us well, but we have surpassed its capacity," says Cole Eye Institute Chairman Daniel F. Martin, MD, the Barbara and A. Malachi Mixon III Institute Chair of Ophthalmology.
The expansion will integrate lessons learned from patients in the existing building, which will be renovated and ultimately connected to the expansion by a large atrium.
A centralized check-in area, for example, will make it easier for patients to get to specialty areas via short radial paths. "Many of our patients have vision and mobility issues," Dr. Martin says. "As we design the new building, we'll be particularly attentive to those needs."
Plans call for plenty of natural light, too. "The more light we can get in the building, the better," Dr. Martin says. "A brighter environment not only helps to see better, but is emotionally supportive for patients who are confronting serious vision-threatening diseases."
The new building will add 60 exam rooms and a surgical center with 12 operating rooms, complete with femtosecond lasers and other innovative surgical tools. It also will include a Center of Excellence in Ophthalmic Imaging, as well as expanded, technologically advanced spaces for education and research.
"We're designing our new facility for 21st-century eye care," says Dr. Martin. "It will deliver exceptional clinical, diagnostic and surgical services for the entire range of eye diseases, as well as facilitate research and discovery of the next generation of new therapies."
Need
One of the world's leading ophthalmology centers, the Cole Eye Institute has seen patient visits double and surgical procedures triple in recent years. Demand is sure to increase as an aging population confronts diseases such as age-related macular degeneration, which will affect 1 in 4 older adults.
Now
A groundbreaking ceremony will be held this summer for the Cole Eye Institute's expansion, which is actively seeking donor support.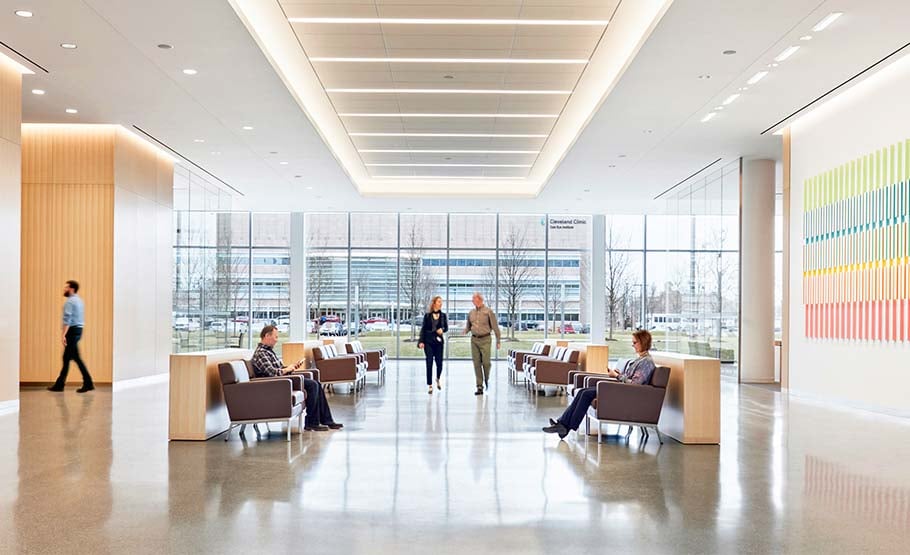 Exuding Empathy: Taussig Cancer Center
As a cancer survivor herself as well as a Cleveland Clinic "redcoat" guide, Theresa Cotton brought a unique dual perspective to the patient advisory group that co-created Taussig Cancer Center.
"When you're diagnosed as a cancer patient, you become part of a larger family," Cotton says. "I wanted to give something back."
Before Taussig Cancer Center opened in 2017, Cotton and other patients were consulted regularly to ensure that the 377,000-square-foot building would exude empathy. They offered input on a range of considerations, from the best spot for a meditation space to which treatment chairs were most comfortable.
The result? "Taussig Cancer Center provides a seamless personalized experience," says Taussig Cancer Institute Chairman Brian Bolwell, MD, FACP.
It starts at the main entryway, where a massive canopy shields you from the elements during drop-off and pickup. Inside, a large lab minimizes the wait for blood testing on the first level, where you also can have prescriptions filled in an outpatient pharmacy, shop for special needs in a retail store and dine in a café that accommodates special diets. Upper floors are organized by cancer type, making it possible to have all of your appointments in a single area—with clinical caregivers coming to you and not vice versa.
Natural light pours into the entire facility. "It really helps, because when you're being treated for cancer, your mind and your soul can be in a dark place," Cotton says.
Members of the patient advisory group left their mark on Taussig Cancer Center both figuratively and literally. "We were invited to sign the final beam in the building, which was very emotional," Cotton says. "I'm proud of our contributions. Having experienced firsthand what cancer patients go through, we knew we could make a difference."
In the Pipeline
Taussig Cancer Center is providing a model of patient care for these other projects:
Fundraising is underway for a new cancer center at Cleveland Clinic Fairview Hospital.
Dedicated to the screening, diagnosis and treatment of breast cancer, the Lozick Women's Center will open next year at Cleveland Clinic Florida's Weston campus.
At Cleveland Clinic Abu Dhabi, a new oncology center is scheduled to open in 2021.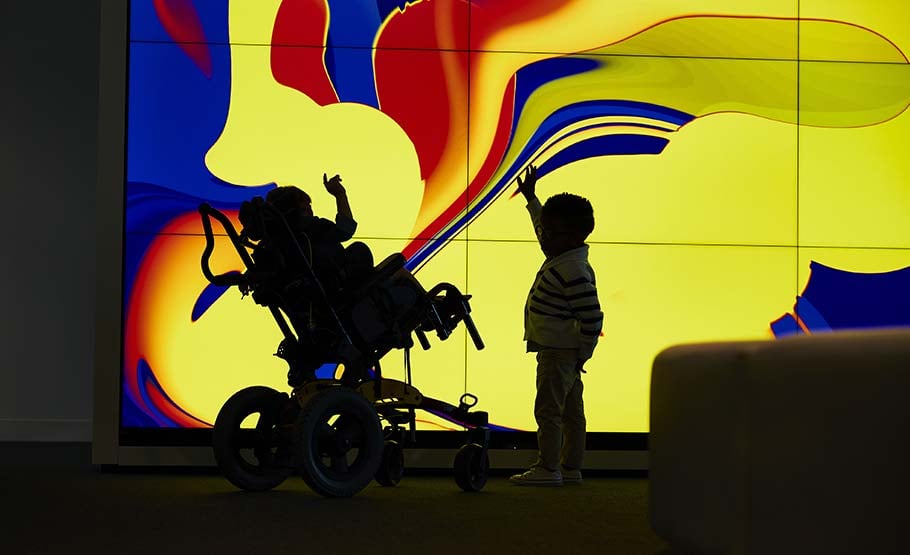 A Family-Friendly Makeover: Cleveland Clinic Children's
Before Cleveland Clinic Children's renovated an in-patient unit three years ago, parents of young patients shared their thoughts on everything from countertops (round those edges!) to room layout (hospital bed in front, sleeper chair in back for Mom or Dad, please). The family-friendly makeover also entailed converting an entire wall in each room into a giant whiteboard, which has proved useful not only for medical team information, but also for encouraging messages from visitors or artwork by the patients themselves.
Additional parental suggestions—ranging from a playroom for patients and siblings to restrooms with improved accessibility and lots of wall hooks for families that travel with multiple bags—informed the design of the Cleveland Clinic Children's Outpatient Center. It made its debut in 2018.
"Patients come in all ages and sizes," says Pediatric Patient Experience Officer Christine Traul, MD. "We're always thinking about their needs, first and foremost."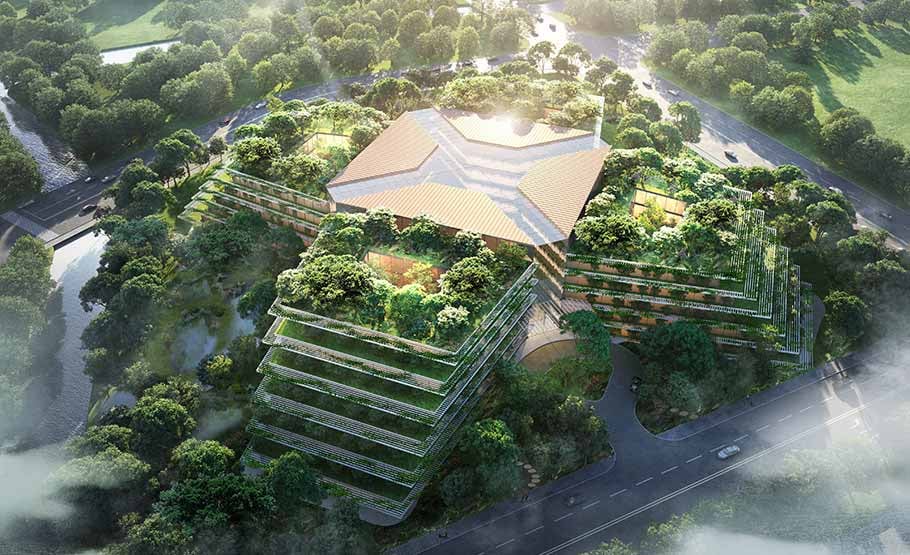 Connected in China
Opening in 2024, the Shanghai Luye Lilan Hospital will be a nature-embracing oasis for patient-centric healthcare in the middle of one of the world's largest cities. Plans call for a lush courtyard surrounding the main building, which will feature a richly landscaped atrium and a glass rooftop to let in ample natural light. A joint venture with Luye Medical Group, the hospital is the first under the aegis of Cleveland Clinic Connected, a new initiative to improve health around the world by connecting patients with Cleveland Clinic's best practices and leading-edge technology.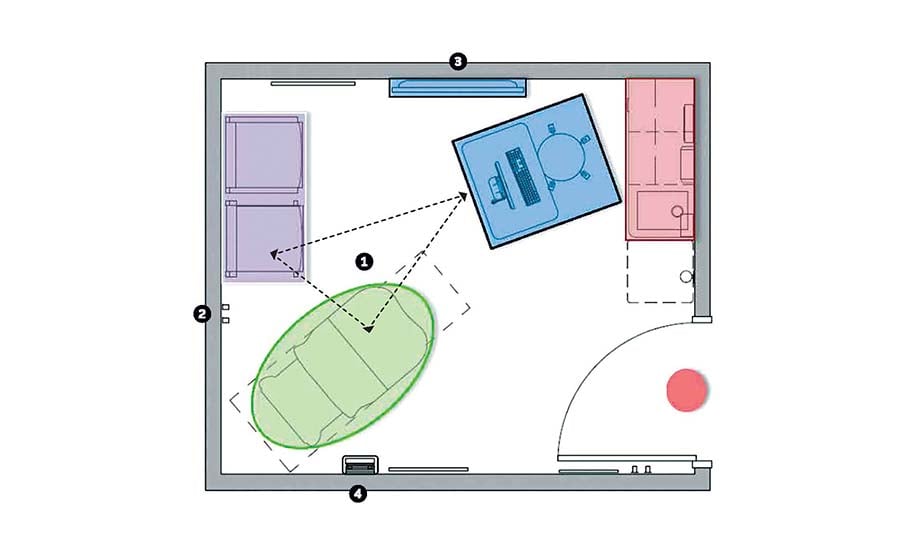 How to Build a Better Exam Room
When Cleveland Clinic designers set out to create new guidelines for exam rooms, they consulted 150 patients for recommendations. "We invited them to experience mock-ups, listened to their feedback and prioritized changes based on what our patients shared as most important," says Dr. Julie Rish. Designers also conducted clinical simulations with patients, physicians and nurses to study interactions in the rooms. Little tweaks ended up making a big difference.
Exam chair/table, guest chairs and workstation are positioned to facilitate eye contact and easy interaction among patient, family/friends and care team.
Enhanced storage includes more wall hooks for coats and other belongings.
Artwork is visible to patient, brightening the room and promoting healing.
Disposal container is discreetly located.