GIFT PLANNING
A Lifetime Commitment
An ailing basset hound named Emmylou brought Mitzi and David Guitar together. For two decades, nothing could pull them apart.
Their love story began at Dr. Guitar's veterinary practice near Houston. Another veterinarian had told Mitzi that her dog needed to be euthanized because of spinal arthritis.
But Dr. Guitar said, "I can take care of this." And he did. Emmylou lived many more years, says Mitzi, who fell in love with David on the spot. "He was just so great, so calm."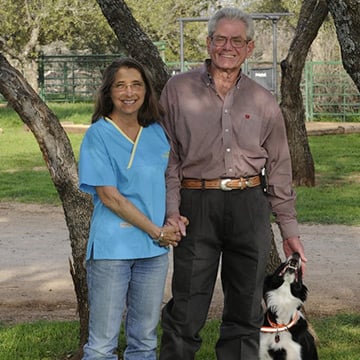 She and David married in 1999. She became his veterinary assistant, helping to care for pets, horses and even elephants from the Houston Zoo. Mitzi was the only person he ever invited to go with him on safari in Africa and the only person he trusted to accompany him on his numerous trips to Cleveland Clinic.
Diagnosed at 2 with ulcerative colitis, David also had Crohn's disease and was frequently hospitalized. By the late '80s, he had multiple health issues and his physician told him that Cleveland Clinic was his only hope for survival.
David had nearly 20 surgeries at Cleveland Clinic, including a liver transplant in 2014 from a living donor, his great-nephew. Grateful for the care that extended his life, the Guitars made a lifetime commitment in 2017 that created the Mitzi and L. David Guitar, DVM, Liver Transplant Research Center within the Digestive Disease & Surgery Institute and established planned gifts to ensure its continued support.
David and Mitzi spent months at a time at Cleveland Clinic, which became a community of friends. When David died in September 2018, Cleveland Clinic caregivers attended his funeral in Texas, and when Mitzi returns for her own medical care, it's like coming back home.
Mitzi lives at the ranch that she and David owned together in Medina, Texas, on a mountaintop with a breathtaking view, savoring the years she had with David.
They weren't enough, but "we didn't waste any time," she says. "It was very rewarding."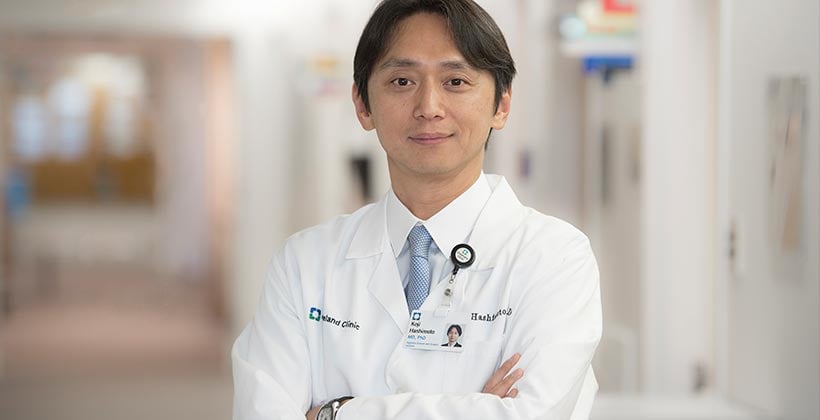 Closing the Gap
Koji Hashimoto, MD, PhD, Director of Living Donor Liver Transplantation at Cleveland Clinic, flew to Texas to give one of the eulogies at David Guitar's funeral, and he's still close to Mitzi, visiting with her whenever she's in Cleveland.
The Guitars made a generous gift to his research, which is focused on closing the gap between patient need and organ availability.
Describing their support as "tremendous," Dr. Hashimoto says, "They were an amazing couple who liked to help people. I can't thank them enough."