Glory Days
William Proudfit, MD, looks back on a remarkable life in medicine
Just shy of 106 (his birthday is in February), Cleveland Clinic's oldest retired physician remains sharp as a scalpel. William Proudfit, MD, is quick with a joke, too.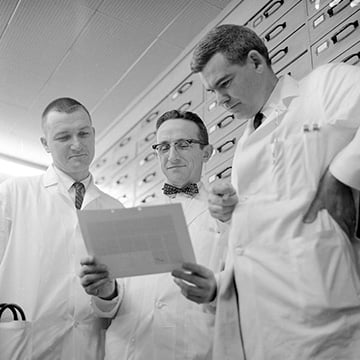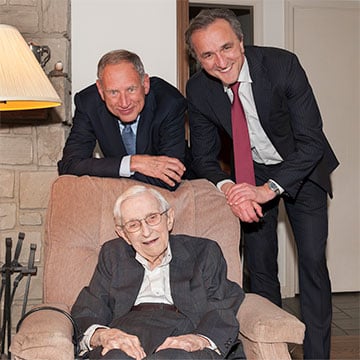 "I'll try not to say anything that will be used against me," the accomplished yet humble cardiologist tells a recorder-wielding reporter.
Dr. Proudfit has three children, seven grandchildren and nine great-grandchildren. His wife of 67 years, Thelma, died in 2007.
A native of Connellsville, Pennsylvania, Dr. Proudfit graduated from Harvard Medical School, where tuition was $400 a year when he attended during the Great Depression. "Unbelievable, isn't it?" he says.
He first came to Cleveland Clinic for a fellowship in 1940. Six years later, after serving in the Air Force during World War II, he was appointed head of electrocardiography. "Back then, it was more like an office practice than a hospital," Dr. Proudfit recalls. "There was no fancy medical equipment."
He counted trailblazers such as F. Mason Sones Jr., MD, and René Favaloro, MD, not only as colleagues, but also as friends.
Dr. Sones pioneered coronary angiography. "At first some people thought he was a nut—which he was," Dr. Proudfit says. "But they became convinced that he was a smart nut."
"You've got to enjoy the work you do, regardless of what the work is."

Dr. William Proudfit
Dr. Favaloro performed the first coronary bypass surgery. "Every night he studied catheterization films, which was unheard of," Dr. Proudfit recalls. "He had lots of original ideas."
Those were heady times at Cleveland Clinic. "We went from glory to glory," says Dr. Proudfit, who led the Department of Clinical Cardiology from the mid-1960s through the mid-1970s. "It was thrilling!"
Before his retirement in 1979, Dr. Proudfit was instrumental in developing the largest and longest-running cardiovascular registry, which has transformed the medical landscape by allowing physicians to provide better diagnoses and treatments for patients. It was the first computerized medical database, replacing paper records and ushering in a new era of data-driven care.
"You've got to enjoy the work you do, regardless of what the work is," Dr. Proudfit says. "I tried to enjoy everything I did."