KEY TOPIC
Artificial Intelligence
The ability of machines to emulate human intelligence is transforming the world around us. What opportunities and challenges lie ahead for artificial intelligence (AI) in healthcare?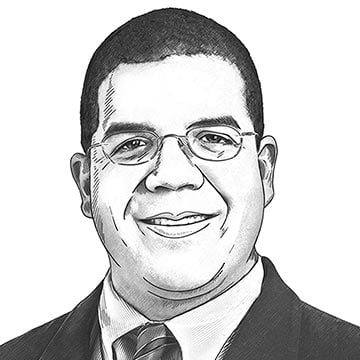 Charles Martin III, MD
While I freely admit that this may be a bit biased, I feel that the most exciting use of artificial intelligence in healthcare today is in its applications in the fields of radiology and pathology. These fields reside at the nexus of clinical diagnosis, and when current AI applications in these areas are coupled with additional information from a patient's medical record, the results yield a faster, more precise, more comprehensive diagnosis. The first step toward meaningful artificial intelligence application will be to make our data more amenable to machine learning on a larger scale, and providing data in a more structured clinical format instead of current unstructured text. This will allow the data to become interoperable with our electronic health records. We will then need to train a host of physicians across the enterprise with the context by which to validate and oversee the implementation of any future clinical algorithms. A big win can be in allowing this technology to assist in enabling our staff to arrive at diagnoses for our patients quicker and provide more accurate treatments in fewer steps, with less clinical burden. Coupling imaging, diagnostic and patient data with artificial intelligence influenced by the subject matter expertise of the practitioner will allow optimized pattern detection, yielding more objective and consistent care pathways.
Charles Martin III, MD, is a Staff Physician in the Department of Radiology at Cleveland Clinic.
Hometown: Port Jefferson, New York, on the north shore of Long Island
First job: Librarian assistant
Undergraduate education: Johns Hopkins University
Currently reading: The Medici Effect by Frans Johansson
Pastime pleasure: Spending time with my wife and three children
Additional AI insights:
Machine learning algorithms are only as good as the data that is input.
I think everyone is realizing how costly it is to coordinate, aggregate, secure, and maintain data, and then develop and maintain a staff with a focus toward these processes.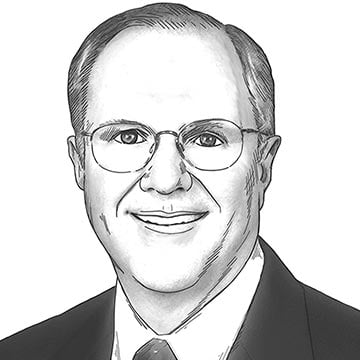 Craig Mundie
I believe that the future of healthcare will bring a shift towards more prevention of disease along with a transition to N-of-1 medicine—diagnosis and treatment will be done on a personalized basis. If we are to achieve the promise of personalized health and wellness using understandings based on the whole of human biology as a system, we need some radically different way of generating, and then practicing, medicine based on that personalized understanding. In my view, this will likely only come about by using the fruits of the emergent quest for Artificial General Intelligence (AGI) to develop, and then interpret in practice, a complete understanding of human systems biology. We will need the machines we are now starting to make to guide us in the application of potent tools and capabilities that we are perfecting using the last generation of computing capabilities. To do that, we must recognize that the role of medical researchers must evolve toward helping the AGI to learn these answers for itself, rather than thinking it will learn from us. This adjustment has already begun in other fields. It is time for the biomedical community to accept this inevitability and move forward as well.
Craig Mundie is President of Mundie & Associates, a philanthropist and the former Chief Research and Strategy Officer at Microsoft.
Hometown: Cleveland
First job: Pouring ceramics
Undergraduate education: Georgia Institute of Technology
Currently reading: Emergent Tool Use from Multi-Agent Interaction, OpenAI.com/blog
Pastime pleasure: Boating in the Pacific Northwest
Additional AI insights:
I think that human biology is too complex for humans to understand, but, ultimately, not for machines.
The evolution of computing over the last 50 years has empowered us to understand many piece parts of our biology, but certainly not the holistic system biology. The opportunity is to engineer a shift to molecular interventions at a systemic level.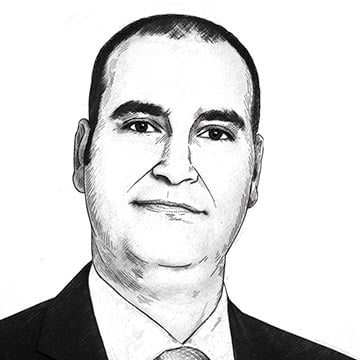 Aziz Nazha, MD
We are striving to create a new, hybrid role—what we call 'physician data scientists'—who understand machine learning, artificial intelligence and how these technologies can be applied to medical research and clinical practice. Our researchers are building machine learning models that use AI to not only predict certain patient outcomes, but lead directly to actions that improve our patients' health. Our projects span multiple aspects of medicine, from general internal medicine to cancer, pulmonary diseases and others. However, it is important for us to understand that AI is not a solution for or remedy for all healthcare problems. That's why, in my opinion, you'll never see "robot" doctors, because the human factors of empathy, common sense and instinct so often play a critical role in medical decision-making. Ultimately, what we're doing with AI is striving to better harness data to gain critical additional insights that could lead to improved care and outcomes. Our work is progressing, but for us to truly move this effort forward we must get more physicians engaged. And we have to train them in how to better understand these algorithmic models and what the results mean for research or patient care.
Aziz Nazha, MD, is Director of the Center for Clinical Artificial Intelligence at Cleveland Clinic.
Hometown: Damascus, Syria
First job: Retail salesperson
Undergraduate education: Tishreen University, Syria
Currently reading: Leadershift by John Maxwell
Pastime pleasure: Playing basketball
Additional AI insights:
Although the healthcare industry is trailing other industries in the acceptance and the application of AI, it is expected that healthcare will be the most disrupted industry by AI in the decade to come.
The delay in progress of AI in healthcare is related to the disconnect between computer scientists and companies that work on AI capabilities and healthcare providers such as physicians, payers and executives. These individuals or entities do not speak the same language.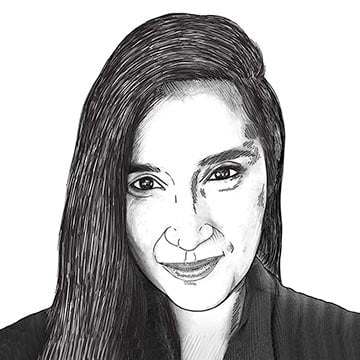 Paola Raska, PhD
Accumulating knowledge is precisely the objective of scientific research as a whole. Artificial intelligence is allowing our human brain to be extended as we continue to pursue knowledge accumulation, i.e. the scientific enterprise. As an epidemiologist who teaches clinical research to new medical students, opening up entirely new ways of thinking about knowledge creation and new avenues for their future research endeavors is a wonderful opportunity. Within specific applications of artificial intelligence in healthcare, it is important to highlight the development of wearables and apps for monitoring and managing chronic disease, including depression and diabetes, to cite a couple of examples, but also their potential precursors such as general day-to-day mood, diet and exercise. I find this incredibly exciting because it is succeeding in bringing health to bear outside of the healthcare institutional walls, expanding "patient" engagement both in terms of disease timeline, to include prevention, and in terms of patient population subgroups, to reach those segments that have proven to be hard to reach due to geographical, social and financial barriers. This particular application of artificial intelligence is very well aligned with the increased emphasis on population health.
Paola Raska, PhD, is a professor of epidemiology at the Cleveland Clinic Lerner College of Medicine.
Hometown: Long Beach, New York (born in Medellin, Colombia)
First job: Research assistant
Undergraduate education: Jorge Tadeo Lozano University, Colombia
Currently reading: Bold by Peter Diamandis and Steven Kotler
Pastime pleasure: Dancing, knitting and long conversations with friends
Additional AI insights:
If physician researchers continue to think in terms of hypothesis testing and inference as cornerstones for both the literate consumption of research and the generation of research required for evidence-based medicine, healthcare will continue to lag behind telecommunication and marketing companies and their use of AI in the new information age.
The productive incorporation of AI into clinical research will predicate on physician researchers' understanding of the context into which artificial intelligence fits and how it impacts the questions they can address and the studies they can design.