Keeping the Vision Alive
Cleveland Clinic's Vision First program will leverage a generous gift from TransDigm to continue providing vital eye care for children
In 2009, Jessica Rosado felt a flutter of panic when her 4-year-old son, Johnathan Vega Jr., returned home from preschool carrying a note that recommended an emergency appointment with an ophthalmologist.
After a battery of tests, Johnathan was diagnosed with retinoblastoma, a type of eye cancer that can lead to eye loss, brain damage and death when detected too late. "It's the kind of news that hits you right in the gut," Rosado says.
What began as a routine eye exam with Cleveland Clinic's Vision First program quickly turned into a choice between Johnathan's eye and his life.
Nearly two decades ago, Elias Traboulsi, MD, Head of the Department of Pediatric Ophthalmology and Director of the Center for Genetic Eye Diseases at the Cole Eye Institute, noticed that vision services for children between the ages of 4 and 6 were few and far between. "That absence was particularly concerning because the 4-to-6 range is typically when we detect and treat amblyopia," says Dr. Traboulsi, referring to the condition commonly known as lazy eye.
In partnership with the Cleveland Metropolitan School District, Dr. Traboulsi developed the concept for a van-based service that would drive from school to school to perform eye exams and make referrals for advanced care.
Rhonda Wilson, Manager of Vision First, and Cleveland Clinic optometrist Heather Cimino, OD, staff the Vision First van. They started in Cleveland public schools and have since branched out to 92 schools in six school districts, where they perform 5,000 eye exams free of charge every year.
On average, the Vision First team sees 50 to 70 students on a given school day. Two examination lanes provide maximum efficiency. In the first lane, basic visual acuity, depth perception and eye muscle alignment are evaluated. Between 10 and 15 percent of children in the first lane continue to the second lane for dilation and a full eye exam, where they receive a prescription for glasses or a referral to a pediatric ophthalmologist to treat more severe issues.
"Children are used to only being able to see one way, so they don't always realize there's a problem," says Dr. Cimino. "That vision correction may provide the missing puzzle piece they need to move forward in their education."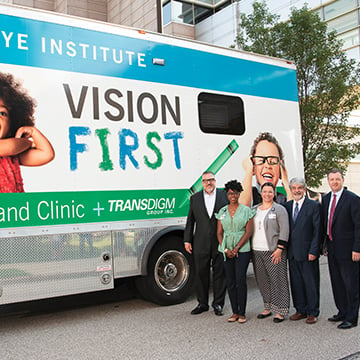 Since its inception in 2002, Vision First has provided vision screening and disease detection for more than 20,000 children in the Cleveland area.
Without an endowment, the program has experienced occasional gaps in funding over the years. Fortunately, a global aerospace manufacturing company recently stepped in with a timely gift that will put gas in the tank for at least five more years. Headquartered in Cleveland, TransDigm recognized an opportunity to address heath inequity in its own backyard.
Vision First's mission hits close to home for TransDigm President and CEO Kevin Stein, who had poor eyesight in elementary school. "I know firsthand that if you can't see the board, you're not going to learn anything," he says. "Vision is such a critical part of education, which ultimately affects earning potential and societal impact. How could we not get behind Vision First's mission?"
From Wilson's perspective, TransDigm's gift is nothing short of transformative. "There have been plenty of times where we reach the end of a school year and wonder if we'll make it out the next year," she says. "Now we're confident we can continue providing the same level of eye care and hopefully even expand to other school districts."
Reflecting on her son's experience, Jessica Rosado expresses gratitude for the benefit of early warning. "Before Johnathan's eye exam, we had no indication that there was even a problem," she says.
Today, Johnathan is a healthy 16-year-old with only vague memories of being in the hospital for eye removal surgery. "Obviously, getting that checkup and surgery made a major impact on my life," he says. "If not for Vision First, I might not be here today."