After going entirely virtual in 2020 because of the pandemic, the Bike to Cure ride returned to Cleveland as an in-person event in September. More than 1,900 riders participated, with routes ranging from 10 miles to 100 miles. The 2021 edition of VeloSano's flagship fundraiser brought in more than $4.5 million for lifesaving cancer research at Cleveland Clinic.
Making an Impact
Cleveland Clinic directly and indirectly supported $34.55 billion of economic activity in the United States in 2019 through ongoing operations and construction activities, according to the health system's latest economic impact report. "Everywhere we operate, we're a leading employer and an economic generator," says Cleveland Clinic CEO and President Tom Mihaljevic, MD. "We strive to invest in local businesses through the purchase of goods and services, and we help cities and neighborhoods thrive through tax revenues that support critical services and infrastructure."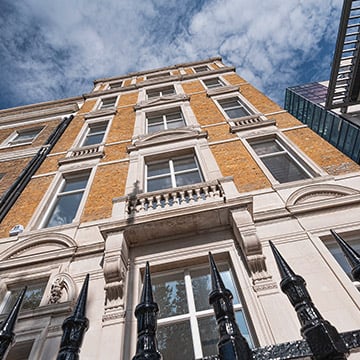 Outpatient Centre Opens
Cleveland Clinic London welcomed its first patients in September at the Portland Place Outpatient Centre. "We're incredibly excited to start delivering our doctor-led model of care to patients for the first time in the U.K.," says Cleveland Clinic London CEO Brian Donley, MD. The 28,000-square-foot facility in London's Harley Street Medical Area offers outpatient appointments, diagnostics and general practice appointments. Cleveland Clinic London's main hospital is set to open in early 2022.
Vaccine Takes Aim at Triple-Negative Breast Cancer
Cleveland Clinic has launched a novel study for a vaccine aimed at eventually preventing triple-negative breast cancer, the most aggressive and lethal form of the disease. The clinical trial is designed to determine the maximum tolerated dose of the vaccine in patients with early-stage triple-negative breast cancer, and to characterize and optimize the body's immune response. The study builds upon research funded in part by philanthropic gifts from more than 20,000 people over the past 12 years.