COVER STORY
Jose Navia, MD
"When an idea comes to me, it can be very powerful — so powerful that I have to address it. Innovation never stops. Never. That's the beauty of it."

Jose Navia, MD
You have to have a spirit of innovation. It has to come from within you. You can't buy it somewhere.

I'm always looking at the patient's needs. In the OR, in the ICU, wherever the patient is, there's always room for improvement. In cardiothoracic surgery, we see more and more complex cases every year. So we have to be dynamic in terms of innovating different surgical techniques, different procedures and different devices.

You need to understand the problem. If you don't understand the problem, you can't fix it. Every time I'm performing surgery, I'm thinking: Can we improve this by doing it differently? It's paradoxical, but a simple solution can be the most elegant way to resolve a complex case.

By the time I was 10 years old, I knew I wanted to be a physician. I also liked to draw. A lot. My mom kept a huge book of drawings that I made when I was a boy. I did all these drawings of different animals. I think it helped me to start to understand anatomy. Even now, I love to draw. Translating the ideas in my mind to paper helps me to understand them, whether it's an idea for a new device or an idea for a new surgical procedure. When an idea comes to me, it can be very powerful — so powerful that I have to address it.

It can't wait. Sometimes I'll wake up at 3 o'clock in the morning with an idea, and I quickly write it down so I don't forget. When I have an idea, I need to work on it. Write more notes; make more drawings. My wife is used to it. She knows I need to focus, and I won't rest until I'm finished.

Innovation never stops. Never. That's the beauty of it.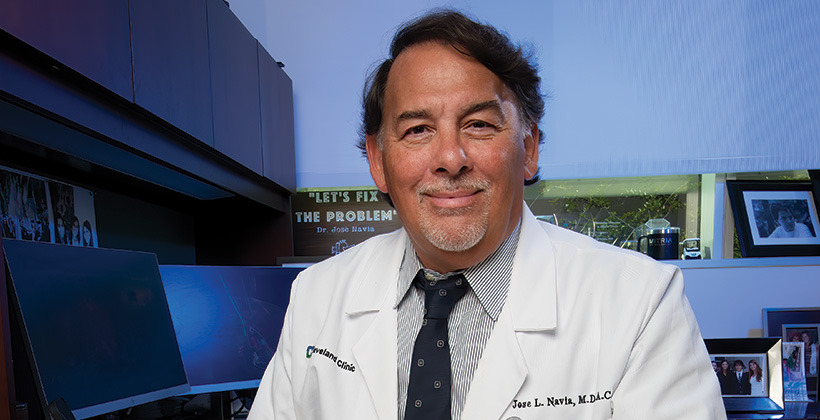 Jose Navia, MD, is Director of the Heart and Vascular Center at Cleveland Clinic Florida. He holds the S. Donald Sussman Distinguished Chair in Heart and Vascular Research. With 30 patents to his name, Dr. Navia has made numerous advances in minimally invasive procedures for heart valve repair and replacement as well as mechanical assist devices for cardiovascular patients.