CATALYST GRANTS
Robotics Reinvents Rehabilitation
THE FACTS
In the past several years, various technological innovations in rehabilitation have involved robotics. Richard Aguilera, MD, of Cleveland Clinic's Department of Physical Medicine and Rehabilitation identified the importance of staying current on this evolving trend and submitted his Rehabilitation Robotics and Technology Initiative for a Catalyst Grant in 2020. He was awarded $8,200.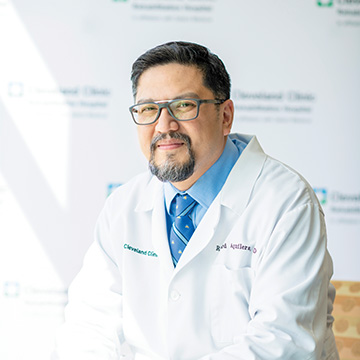 THE NEED
Robotics is being used in rehabilitation in a variety of settings. Different types of robotic gloves can improve hand function for patients with severe hand impairments as a result of a brain injury or a stroke. For patients with locked-in syndrome (a rare neurological disorder characterized by paralysis of voluntary muscles) or amyotrophic lateral sclerosis (aka Lou Gehrig's disease), robotic platforms can be used to mount devices with apps that allow users to communicate by blinking their eyes. All of the above devices were part of Dr. Aguilera's grant.
THE IDEA
The Rehabilitation Robotics and Technology Initiative sought to increase access to rehab robotics to offer advanced patient interventions, improve patient outcomes and facilitate more medical education and research. The technologies were to be used as training tools for occupational therapists, physical therapists, respiratory therapists and speech therapists, as well as physicians, nurses, residents and medical students.
THE IMPACT
Dr. Aguilera's grant connected patients with rehab robotics at four Cleveland Clinic locations. The initiative also provided invaluable training for caregivers in this rapidly evolving field and opened avenues for further research opportunities.