PULSE
The Future of Innovation
Dr. Ruoyi Zhou, left, and Dr. Lara Jehi inspect the new IBM quantum computer that is being installed on Cleveland Clinic's main campus.
Cleveland Clinic and IBM have begun deployment of the first private-sector, on-site, IBM-managed quantum computer in the United States, to be located on Cleveland Clinic's main campus.
FIRST
The first quantum computer in healthcare, anticipated to be completed in early 2023, is a key part of the Cleveland Clinic-IBM Discovery Accelerator, a partnership between the two organizations that is aimed at fundamentally advancing the pace of biomedical research through high-performance computing.
"The current pace of scientific discovery is unacceptably slow, while our research needs are growing exponentially," said Lara Jehi, MD, Cleveland Clinic's Chief Research Information Officer. "We cannot afford to continue to spend a decade or more going from a research idea in a lab to therapies on the market. Quantum offers a future to transform this pace, particularly in drug discovery and machine learning."
"A step change in the way we solve scientific problems is on the horizon," said Ruoyi Zhou, PhD, Director, IBM Research - Cleveland Clinic Partnership. "At IBM, we're more motivated than ever to create with Cleveland Clinic and others lasting communities of discovery and harness the power of quantum computing, AI and hybrid cloud to usher in a new era of accelerated discovery in healthcare and life sciences."
Cleveland Clinic and IBM have already begun several collaborative projects that benefit from the new computational power, including a research study developing a quantum computing method to screen and optimize drugs targeted to specific proteins; an improved prediction model for cardiovascular risk following noncardiac surgery; and the use of artificial intelligence to search genome-sequencing findings and large drug-target databases to find effective, existing drugs that could help patients with Alzheimer's and other diseases.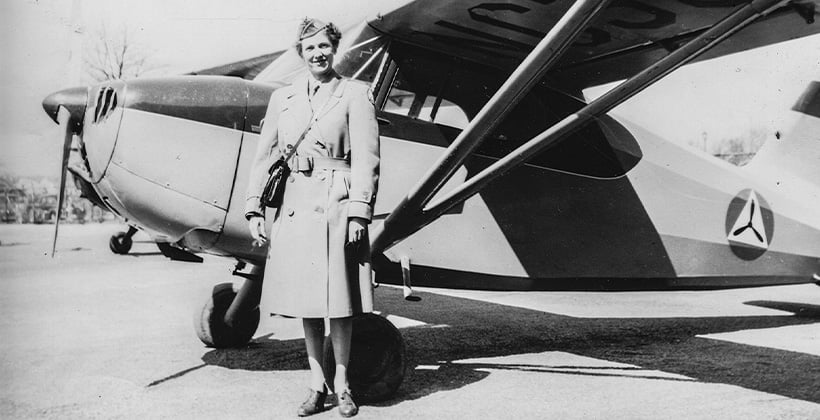 RESEARCH
Initiative Sets Its Sights on AMD
One in four people over the age of 70 will develop age-related macular degeneration (AMD) that will threaten their central vision. AMD is the leading cause of permanent blindness worldwide.
At Cleveland Clinic, the new LOUISE TIMKEN INITIATIVE FOR AGE-RELATED MACULAR DEGENERATION RESEARCH will set out to change that. It has been established with a $10 million gift from the Timken Foundation of Canton, Ohio.
The initiative promises to build upon the Cole Eye Institute's existing strengths and recruit the brightest AMD researchers in the field. A key focus will be discovering biomarkers that will lead to significant changes in treatment for patients. In addition to aligning its efforts with the Lerner Research Institute and the new Cleveland Innovation District, the initiative plans to leverage synergies across Cleveland Clinic's global health system to offer the most innovative AMD care in the world.
"Our goal is twofold," says Cole Eye Institute Chair Daniel F. Martin, MD, the Barbara and A. Malachi Mixon III Institute Chair of Ophthalmology. "First, we aim to identify new therapeutic targets and to develop drugs for those targets in an effort to improve outcomes in those who develop AMD. Second, we hope to significantly advance our understanding of the mechanisms that cause the disease so that we might prevent it altogether. We are deeply grateful to the Timken Foundation for providing a catalyst for new research that we are confident will lead to important progress in the fight against this disease."
The new initiative is named in honor of Louise Timken (1910-1998), a high-flying pioneer who served in the Civil Air Patrol during World War II. She later became the first woman to pilot her own private jet. She kept flying into her 80s, until AMD grounded her. Her joy of flying was shared by her husband, the late H.H. Timken Jr., former Chairman of the Timken Company.
The Timken Foundation has a track record of generous support for Cole Eye Institute. Previous gifts provided funding for the expansion of the institute as well as for the creation of the Louise Timken Microsurgical Education Lab and the Louise Timken Ophthalmic Education Center.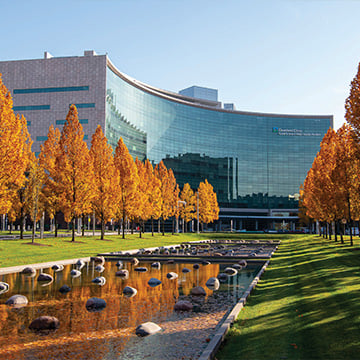 RANKINGS
Heart of the Matter
For the 28th year in a row, Cleveland Clinic is America's NO. 1 HOSPITAL FOR CARDIOLOGY AND HEART SURGERY in U.S. News & World Report's 2022-23 Best Hospitals rankings, while earning a Top 5 overall ranking for the 24th consecutive year. Cleveland Clinic's main campus hospital, which ranks No. 4 in the nation and No. 1 in Ohio, placed nationally in 13 specialties, including nine in the Top 10 and six in the Top 5. "These rankings are a recognition of our caregivers' compassion and expertise," said Cleveland Clinic CEO and President Tom Mihaljevic, MD, the Morton L. Mandel CEO Chair. "Every day and with every patient, we strive to improve our high standards and outcomes."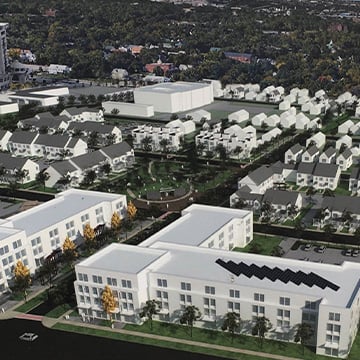 COMMUNITY
'Strengthening the Neighborhood'
A groundbreaking ceremony was held in September to mark phase one of THE AURA AT INNOVATION SQUARE. The mixed market-rate apartment development will serve the community and workforce in Cleveland's Fairfax neighborhood, which also is home to Cleveland Clinic's main campus. Scheduled to open in late 2023, the Aura will include 82 one- and two-bedroom rental units. In addition to assisting with site acquisition, Cleveland Clinic has invested $10 million to support the project. "Cleveland Clinic is committed to strengthening the neighborhood we call home and creating a heathier community," said Tom Mihaljevic, MD, CEO and President of Cleveland Clinic and Mandel CEO Chair. "When we all come together to identify and address community issues, we can make a difference."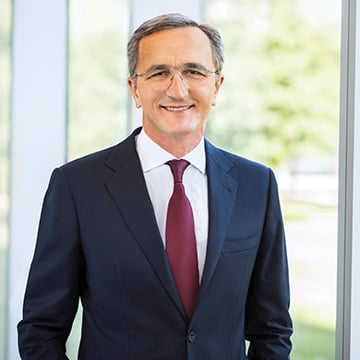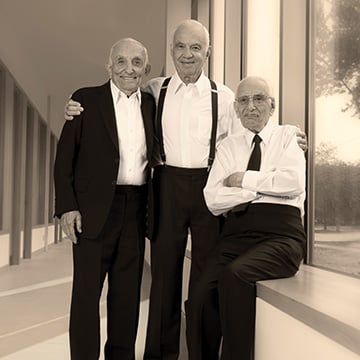 GIFT
A Boon to Leaders and Innovators
A transformational gift of $30 million from the Jack, Joseph and Morton Mandel Foundation will catalyze LEADERSHIP DEVELOPMENT AND INNOVATION at Cleveland Clinic.
The gift endows the position of the Chief Executive Officer of Cleveland Clinic. The inaugural holder of the Morton L. Mandel CEO Chair is the current CEO and President, Tom Mihaljevic, MD.
"We wanted to honor the legacy of Mort Mandel," said Jehuda Reinharz, PhD, President and CEO of the Mandel Foundation. "He believed in leadership, and he felt that the leadership of Cleveland Clinic was outstanding."
The gift also establishes an endowed fund for innovation. Funds drawn annually from the endowment will be available to the CEO to seed innovative ideas that impact the communities served by Cleveland Clinic and to advance priorities in support of the CEO's vision.
"We wanted to give a powerful tool to the CEO of Cleveland Clinic to be able to spark innovation," said Mandel Foundation Chairman Stephen H. Hoffman. "There's no one better positioned to understand what needs to be encouraged. We think that's a big part of what leadership is about."
The Mandel Foundation's long history of support for Cleveland Clinic includes a $23 million gift in 2019 for preparing future healthcare leaders at the Jack, Joseph and Morton Mandel Global Leadership and Learning Institute, as well as previous gifts to support the Morton L. Mandel Chair for Urologic Cancer Research at the Glickman Urological Institute; the Jack, Joseph and Morton Mandel Preventive Medicine Suite; and the Jack, Joseph and Morton Mandel Conference Center at the Health Education Campus.
"I'm convinced that it's not a crazy idea to think you can change the world by changing the leaders," Mort Mandel told Cleveland Clinic Magazine shortly before his passing in 2019. "The quality of Cleveland Clinic or almost any institution is, to a great extent, a function of the quality of the people at the top."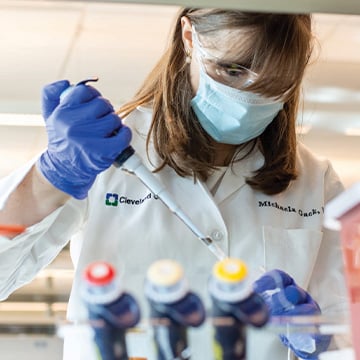 LAB REPORT
Priming the Immune System
Researchers from Cleveland Clinic's Florida Research and Innovation Center (FRIC) have discovered that disruption of a cellular structure known as the actin cytoskeleton is A "PRIMING SIGNAL" FOR THE BODY TO RESPOND TO A VIRUS. These findings, published in the journal Cell, potentially lay the groundwork for new antiviral vaccines and treatments. "It's a fundamental new way of considering how the immune system can be activated," said Michaela Gack, PhD, (pictured) the Arthur and Marylin Levitt Endowed Chair and Scientific Director of the FRIC. "This could lead to broad antiviral therapeutics." The FRIC team collaborated on the study with researchers from multiple institutions, including Konstantin Sparrer, PhD, of Ulm University in Germany.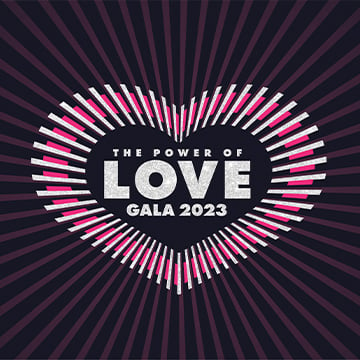 MARK YOUR CALENDAR
The 26th annual POWER OF LOVE gala is set for Saturday, February 18, 2023, at MGM Grand Garden Arena in Las Vegas. The star-studded benefit for Cleveland Clinic Lou Ruvo Center for Brain Health will honor Rock and Roll Hall of Famer Steven Tyler and present the Community Leadership Award to entrepreneur and philanthropist John Paul DeJoria. For details, visit keepmemoryalive.org/PoL.