CATALYST GRANTS
Back to Basics
THE FACTS
Indigent patients are often frightened and confused when they arrive at Cleveland Clinic Indian River Hospital's Behavioral Health Center (BHC). They're frequently held involuntarily due to mental health crises and need assistance and stabilization. In addition, they often come with insufficient attire. In 2021, a Catalyst Grant for $28,000 was awarded to Lorraine Rhoden, a caregiver at Indian River Hospital, to create the "Discharge with Dignity" program.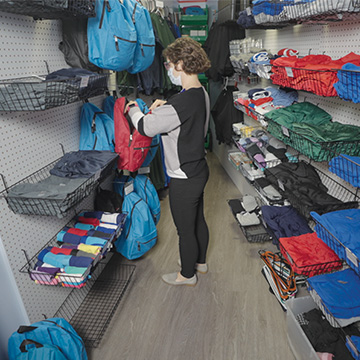 THE NEED
At the BHC, clothing must comply with certain patient safety standards, such as having no holes, strings or underwires. Compliant clothing is commonly delivered to patients who have supportive family and friends, but those without this support have limited clothing options besides the hospital gown. The ability to provide street clothing is essential to maintaining a patient's dignity and allows them to feel more at ease in the BHC as well as upon discharge.
THE IDEA
A key component of the "Discharge with Dignity" grant was the renovation of a walk-in closet stocked with basic necessities, either purchased or donated, for patients in need. Upon admission to the BHC, they receive suitable clothing. Upon discharge, they receive a change of clothes and a sturdy backpack containing a toothbrush, toothpaste, soap, wipes, sunscreen and other essentials, including a reusable water bottle, a hat, a rain poncho and a blanket. The ultimate goal? Establish an environment where patients can focus their efforts on healing while being more comfortable around their peers.
THE IMPACT
So far, more than 100 patients at the BHC have benefited from the "Discharge with Dignity" project. Dozens of shirts, shorts, flip-flops and other clothing items as well as backpacks have already been distributed, and hundreds of other necessities purchased with the grant are ready when needed. Harder to quantify but perhaps most important of all: For each beneficiary, a sense of dignity has been restored.