Raising the Bar for Organ Transplantation
Cleveland Clinic's transplant centers in Ohio, Florida and Abu Dhabi are pushing the boundaries of innovation to give more patients the gift of life.
Maria Contreras and Monica Davis, both grandmothers living in the Cleveland area, share more than a diagnosis or a story of healing. They share a liver from the same donor.
In 2013, a biopsy revealed that Monica had cirrhosis caused by primary sclerosing cholangitis (PSC), a liver disease that damages the bile ducts. "Like many people, I was under the impression that liver problems were related to alcohol, but I was never a drinker," she remembers. "My family and friends were shocked."
The next year, Maria received a similar shock when she was diagnosed with liver failure. At the time, her only symptoms were itching in her feet and neck. Both women waited on the United Network for Organ Sharing (UNOS) transplant list until July 2020, when they received a call that a liver was available — or, more precisely, a portion of a liver.
Since 2004, Cleveland Clinic has performed split-liver transplants as a strategy to save two lives at once. Due to a national donor shortage, one in five patients dies or becomes too ill to receive a transplant before they move to the top of the waiting list.
Monica received 60% of a donor liver, while Maria received the remaining 40%. Both women recovered quickly, secure in the knowledge that their new liver would grow to become a standard size by six to eight weeks after surgery.
In early 2022, they met for the first time. "I was waiting so long for this moment to meet her that I hugged her, I kissed her, and I jumped!" exclaims Maria, who calls Monica her transplant "sister."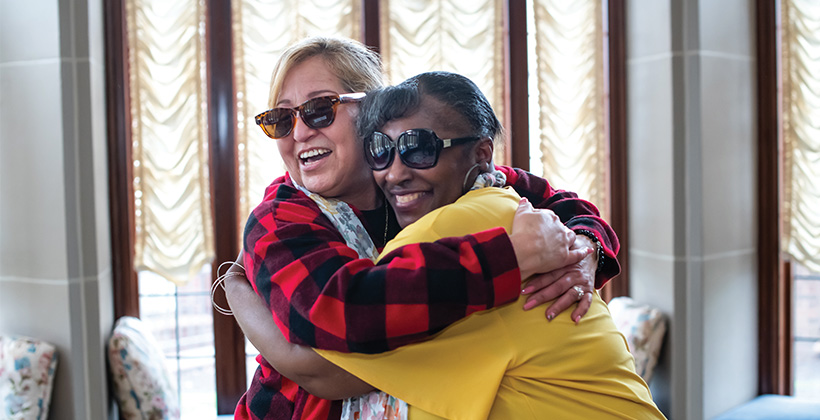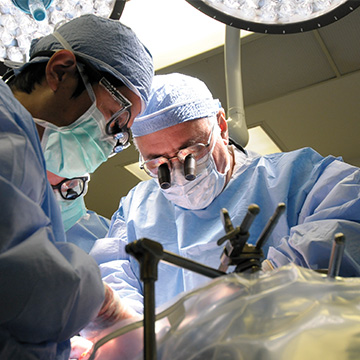 A New Gold Standard
Maria and Monica are two of thousands of patients with a new lease on life thanks to Cleveland Clinic's growing transplant program. In 2022, Cleveland Clinic doctors performed a combined 1,050 transplants across three locations: Cleveland, Abu Dhabi and Weston, Florida. The majority were liver and kidney transplants, though the volume of heart and lung transplants rose as well. Today, Cleveland Clinic's liver and intestinal transplant programs are among the largest programs in the U.S.
The success of Cleveland Clinic's transplant program was anything but a foregone conclusion. Charles Miller, MD, Enterprise Director for Transplantation, came to Cleveland Clinic in 2004 to breathe new life into the effort. At that time, transplant specialists were performing 35 liver transplants a year, compared to 215 in 2022.
"My objective was to build a program that trains the best and brightest to pursue innovative ways of doing transplants, while focusing on quality and safety above all," says Dr. Miller. In collaboration with what he calls a "virtuoso-level" team of colleagues, he has hit the mark by any measure.
Cleveland Clinic's liver transplant program owes its success to the ability of its doctors to incorporate several key innovations. First, its living donor program, which transplants a portion of the liver from a healthy person to a person whose liver is not functioning properly, has become significantly less invasive with the use of laparoscopic techniques. While laparoscopic kidney transplants have been commonplace for three decades, few liver transplant programs have followed suit.
In 2018, Dr. Miller recruited David Kwon, MD, PhD, one of only a handful of surgeons in the U.S. with the skill required to complete living donor transplants using laparoscopic techniques. Dr. Kwon has already trained another surgeon to complete the same procedure, which significantly improves patient comfort and reduces recovery time.
The liver transplant program is also renowned for removing the left lobe of the liver of a living donor, which leads to better postsurgical liver function than using the right lobe. "But using the left lobe is much trickier," says Dr. Miller. "We must be more technically precise and understand the physiology of the liver in greater depth. This is not something you learn in training." Thanks to the deep bench of technical expertise on the transplant team, Cleveland Clinic doctors use the left lobe in 50% of their transplant surgeries.
Perhaps the greatest innovation of the past decade is the introduction of pump perfusion, a process that involves circulating oxygenated blood and other fluids through an organ to improve its function and preservation between procurement and transplant. In many cases, organs once considered unusable end up saving lives. Ken McCurry, MD, and Cristiano Quintini, MD, are building experimental perfusion platforms (partly funded with philanthropy) for use in lung and liver preservation, respectively. Their efforts have resulted in more organs to transplant than ever before. At the Cleveland location, the liver transplant team has gone from doing one transplant every 1.8 days to one every 1.3 days.
Building a Network
As Cleveland Clinic's Ohio-based transplant program flourished, Dr. Miller and his colleagues began to look outward at the gaping need for their expertise in other parts of the country and world. They decided to combine forces to create an enterprise transplant program that serves patients in Weston, Florida, and Abu Dhabi as well as Ohio.
In 2017, Tony Pinna, MD, a surgeon specializing in abdominal transplantation, took on the challenge of building a transplant program from the ground up in Abu Dhabi. With the program on firm footing by 2020, he moved back to the U.S. to replicate this success at Cleveland Clinic Florida. From navigating different cultural norms and laws in the Middle East to serving the sickest of the sick in South Florida, there was no shortage of opportunities to innovate and improve.
Cleveland Clinic's transplant specialists recognized early on that success hinged on pooling their collective expertise. Currently, an Alliance group for each organ transplant type meets to exchange best practices and discuss ongoing research projects. According to Renee Bennett, Senior Director for Enterprise Transplantation, one of the primary advantages of running a transplant program across three sites is the access it affords to a larger, more diverse group of patients to treat and study.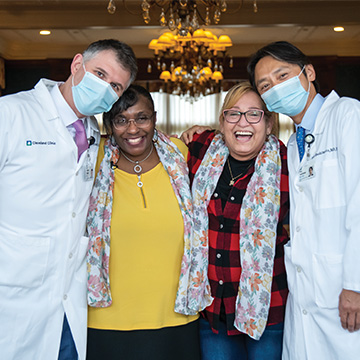 Next Frontiers
While Cleveland Clinic's transplant leaders have made significant strides in refining and implementing new innovations across its locations, they're keenly aware of the distance left to cover.
Xenotransplantation, the use of animal transplants, holds great potential for the hundreds of thousands of people waiting for organ transplants across the globe. 2022 saw the introduction of the first genetically modified pig heart into a human patient, although the recipient lived only months after surgery. Another burgeoning area of research involves bioengineered organs, created using human cells from organ tissue.
"We are just starting to investigate the promise of these technologies," says Dr. Miller, "but the prospect of having a way to create as many organs as we need is a game changer." At the same time, he and his colleagues are also working to better understand immune responses to transplantation so that transplant recipients can tolerate their new organs without taking immunosuppressant drugs for the rest of their lives.
Roadblocks and detours abound in the world of transplantation, but patients from around the world are placing their trust in the team of doctors who are best equipped to confront them. "Our patients know that no matter how young or old or sick or well they may be, we will turn over every stone to get them a new organ and transplant it with compassion and speed," says Dr. Miller. "That's how we will continue to save as many lives as possible."
Transplanting Success
The success of Cleveland Clinic's transplant program isn't confined to Cleveland. It also extends to Abu Dhabi and Florida.
Cleveland Clinic Abu Dhabi, a Mubadala Health partner, is home to the only multi-organ transplant center in the United Arab Emirates. "There are close to 1 billion people living within a three-hour flight of Abu Dhabi," says Tony Pinna, MD, who moved there six years ago to perform some of the first transplant surgeries in the region.
Established in 2017, the center holds the distinction of being the first in the UAE to successfully perform a heart, lung and liver transplant; a combined kidney-pancreas transplant; and a combined kidney-liver transplant. All told, Cleveland Clinic Abu Dhabi has performed more than 330 life-changing organ transplant surgeries — nearly 120 in 2022 alone.
Cleveland Clinic Abu Dhabi has teamed up with the Department of Health in Abu Dhabi for a campaign to drive organ donor registration. The hospital recently installed an electronic kiosk where patients and visitors can learn about organ donation and transplantation and register as organ donors.
In 2020, Dr. Pinna embraced a different challenge when he moved to Weston to reboot Cleveland Clinic Florida's transplant program. "Because we were a newer program, we were treating the sickest of the sick in Weston," says Renee Bennett, Senior Director of Enterprise Transplantation. At the same time, Cleveland Clinic Florida was situated in an area with strong competition in terms of volume and outcomes.
Undeterred, Dr. Pinna and his colleagues in Florida created a living donor transplant program, increased the skill level of every staff member involved in transplantation and introduced pump perfusion technology to improve the likelihood of being able to transplant donated organs. For kidney transplantation alone, perfusion has increased the usability of donated organs from 50-65% to 100%. "We are quickly moving toward becoming the best in Florida," Dr. Pinna says, "in both volume and quality."