IN GRATITUDE
Lorie and Nick Howley
The ASPIRE Nurse Scholars Program at Cleveland Clinic provides a pathway to nursing careers for high school students from economically marginalized communities. Launched in 2016, the initiative is the brainchild of Lorie and Nick Howley. They take their commitment to education seriously; themselves, not so much. "I don't know if we'll have anything smart to say," Nick quips as our interview gets underway. Turns out nothing could be further from the truth.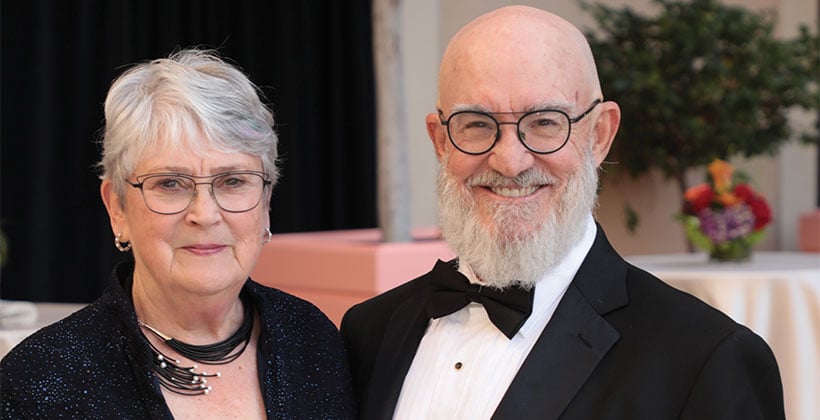 How did ASPIRE come together?
LORIE: Nick went to Cleveland Clinic to have a knee replacement. While he was there, people kept coming in, taking his blood pressure and doing other things. He interviewed everybody. [laughs] "What's your background? What are the job requirements? How much education do you need?"
NICK: These were great, well-paying, prestigious jobs, in a city where we're working with students all the time.1
LORIE: When Nick came home, he said, "Our students need these jobs. How can we get them trained?" I happened to know Kelly Hancock.2 The three of us were at an event, and we just went in a corner and hammered out the basics of the program. Then it was like, "OK, let's do this!"
ASPIRE is now expanding beyond nursing to include pathways to careers in other areas of healthcare, from respiratory therapy to sterile processing technology. What's the thinking behind that?
NICK: We want to make opportunities available to a broader range of students.
LORIE: Some of them aren't going to make it through a four-year college, and not because they're not smart enough. Many times, circumstances will keep students from doing that. So we're looking at other paths that will lead to decent-paying jobs.
Championing education has been the cornerstone of the Howley Foundation's mission since it was established in 2001.3 Why?
NICK: We think the best path to upward social and economic mobility is a quality education. Too many students, particularly in the inner city, are deprived of that.
LORIE: Basically, we're looking to give people opportunities.
NICK: Right. We can't guarantee you an outcome, but we sure as heck want to give everybody as fair an at-bat as we can.
How did education make a difference in your own lives?
NICK: I grew up in Philadelphia in a middle-class family. I'm the oldest of eight kids. My parents regularly used to say that the only things of lasting value that they could give us were an education and a value system or some moral center. I went to Drexel University, where I was an engineering major/football player — and there are damn few of those. [laughs] Then I got myself into Harvard Business School. Education was very important to me. It opened my eyes to a broader world.4
LORIE: I grew up in upstate New York. I'm the first in my family to graduate from college. I majored in ornamental horticulture at Cornell University. I put myself through college with scholarships and loans and by working a lot of jobs. A few years later, I got a master's degree in communications from Cornell.5
How about your commitment to philanthropy? How did that take root?
NICK: For me, it was through a combination of primarily my parents, who weren't wealthy but tried to help others when they could, and also the Jesuit priests at St. Joseph's Prep in Philadelphia.
LORIE: My parents didn't have a lot money either, but they shared their time and talents. They were constantly volunteering and helping other people, through the church or local organizations.
NICK: Through some mix of good luck, good management and hard work, I started a business that ended up being very successful. The world gave us a lot, and we feel a responsibility to give back.
What makes Cleveland Clinic a good partner for your philanthropic goals?
LORIE: Cleveland Clinic values education very highly. So do we.
NICK: We've gone to Cleveland Clinic for our family's medical care for years. Each time, we're impressed with their compassion, which can be hard to maintain in a big organization. I have a brother who's a neurologist, and he always tells me that Cleveland Clinic is one of the premier medical institutions. Also, we support a lot of students from Cleveland, where we live, too, so it makes a difference in our community. When you put all of those things together, it just makes sense. Where else would we turn, other than to one of the best places in the world, a place nearby and a place that we know well?6
You'll celebrate your 42nd wedding anniversary this year.7 What's your secret?
NICK: I always tell people: We've been married for 28 wonderful years — spread over a 41-year period. That works out to 70% good days!
LORIE: I like the joke. By the way, I completely agree!
Notes
On the heels of ASPIRE's success at Cleveland Clinic, the program is being replicated at the Hospital of the University of Pennsylvania, with funding from the Howleys and guidance from Cleveland Clinic.
K. Kelly Hancock, DNP, RN, NE-BC, FAAN, is Cleveland Clinic's Chief Caregiver Officer and holder of the Rich Family Chief Caregiver Chair.
The Howley Foundation provides scholarships to more than 900 students.
Nick is the Founder and Chairman of TransDigm (NYSE: TDG), a leading producer and supplier of aerospace components and systems for commercial and military aircraft.
Lorie developed and taught education programs at Longwood Gardens, a renowned horticultural landmark near Philadelphia.
In recognition of their generous support of Cleveland Clinic, the Howleys were inducted into the 1921 Society in 2017.
The Howleys have three children and seven grandchildren.