Rewriting the Future for Mothers and Babies
The new Center for Infant and Maternal Health seeks to fill longstanding gaps in healthcare.
Imagine being a 21-year-old pregnant mother in East Cleveland, where the median household income is $22,000 per year. You would like to eat a healthy diet, but the skyrocketing cost of groceries means lower-quality items in the shopping cart than before. You struggle to pay your rent, but the wait for subsidized housing is several years long. And without reliable transportation, attending regular doctors' appointments is easier said than done. You wish you could rely on more support from your friends and family, but everyone around you is in the same boat.
This is daily life for tens of thousands of women in Cuyahoga County, Ohio, where health outcomes for mothers and babies are largely determined by ZIP code. Cuyahoga County's infant mortality rate is 7.6 per 1,000 live births, compared to the national rate of 5.4 and the state average of 6.5. The infant mortality for Black infants in the county is more than four times the rate for white infants, highlighting the deep fault lines between the urban neighborhoods near Cleveland Clinic and the surrounding suburbs. At the same time, the maternal mortality rate is nearly three times higher for Black patients than white.
Cleveland Clinic is responding to the crisis with a bold proposition: the creation of a comprehensive center that brings together multidisciplinary specialists and community organizations to fill longstanding gaps in healthcare for mothers and babies across Northeast Ohio.
According to Beri Ridgeway, MD, Chief of Staff at Cleveland Clinic, the new Center for Infant and Maternal Health is the fruit of years of research and analysis. Cleveland Clinic is one of many community partners that has invested significant resources in reducing Ohio's infant mortality rate. Once the most fertile ground for change was identified, new shoots of growth sprouted quickly.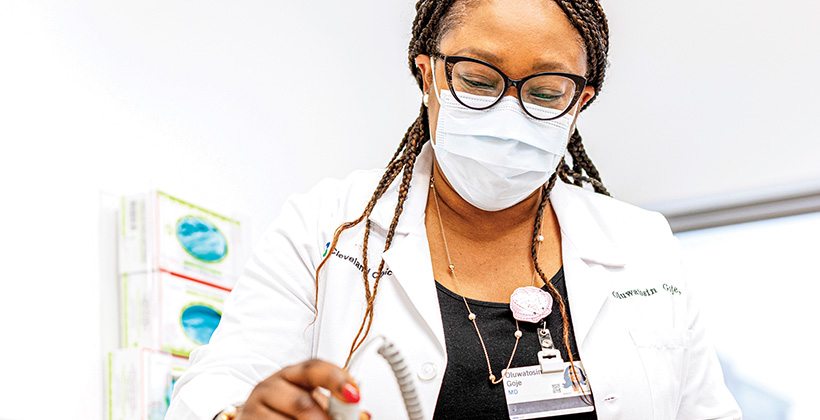 "Historically, in our collective fight against infant mortality, we have emphasized things like safe sleep training and trauma reduction in an effort to decrease the infant mortality rate," says Dr. Ridgeway. "While these are certainly important, they weren't changing the numbers in Ohio significantly. We know that we have top maternity hospitals, although our excellent hospital care alone was not enough. A deeper dive into the data revealed that our biggest untapped opportunity was in pregnancy care."
National data indicates that the leading cause of infant mortality is preterm birth, defined as delivery earlier than 37 weeks' gestation. And preterm birth is heavily linked to a slew of chronic health conditions and lifestyle factors, from gestational diabetes and high blood pressure to substance abuse and poor nutrition.
Even for babies who survive their first year, the impact of preterm birth lives on. Babies born before their due date are more likely to experience respiratory issues, neurological defects and long-term disabilities that significantly affect their quality of life. Their mothers, in turn, experience the long-term effects of their own untreated health conditions. Pregnant women who develop gestational diabetes, for example, have a sevenfold risk of developing Type 2 diabetes. Those who develop hypertension in pregnancy experience an increased risk of cardiovascular disease and stroke.
"By improving the quality of care for pregnant mothers, we are not only trying to avoid immediate health consequences," says Oluwatosin Goje, MD, Medical Director of the Center for Infant and Maternal Health. "We are looking into the future and improving the health of entire communities and healthcare systems. Sometimes I feel like a dreamer, but then I remember that I work for Cleveland Clinic. I work for a system that gets things done."
Dr. Goje points to three strategies on which the success of the center will hinge:
Early Intervention
The earlier the intervention, the better the outcomes. After a patient's first point of contact with an OB-GYN or nurse practitioner, ideally by the time she is nine weeks pregnant, she is referred to an OB navigator who evaluates her medical history and social determinants of health.
Linda Gooden, one of the center's two OB navigators, is a labor and delivery nurse with a gift for making her patients feel at ease. "When I call a mom and explain all the ways I can help support her, she feels that she can trust me by the end of that conversation," Linda says.

Linda confronts disparities in food access, transportation and housing by connecting mothers to local agencies and organizations as early as possible during their pregnancies. On a typical day, she may work with the Greater Cleveland Food Bank to fill a patient's empty pantry or arrange a ride to the nearest Cleveland Clinic location for a patient who would otherwise miss her next appointment.
When Linda began serving as OB navigator in November 2020, she was serving alone. Now she is joined in her mission by a second navigator and five community health workers (CHWs) from Cleveland Clinic's new Center for Community Health Workers, established with the help of a philanthropic gift from Jones Day and the Jones Day Foundation.
"A CHW is a trusted peer in the community who leverages her lived experience in what the patient is going through to come alongside her and connect her to vital resources," explains Thao-Vi Dao, MD, Medical Director of the Center for Community Health Workers. "As a physician, I do my best to empathize with my patients, but it's not the same thing as having as a peer. When it comes to issues like mental health or intimate partner violence, you want to talk to someone who has been there."
Marilyn Alejandro-Rodriguez, Director of the Center for Community Health Workers, sees herself in the 50 women her team of CHWs has supported since the center began seeing patients in December 2022. "Many years ago, I was a young mom who had lost my parents and had very little support or guidance," she says. "It was a CHW who visited my home and connected me to all the resources I needed to be successful. It is such a blessing to be in a position now to help other moms thrive."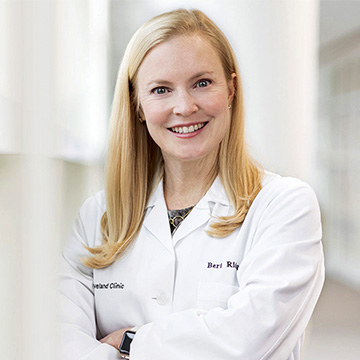 Mother-Baby Comprehensive Care Unit
The Center for Infant and Maternal Health's second strategy for success is the creation of mother-baby comprehensive care that provides a full spectrum of prenatal and postpartum services.
When a newly pregnant patient visits for the first time, she will encounter everything from specialist care for chronic conditions to vaccinations and exercise classes. If she develops hypertension, she may be referred to the cardiovascular OB team and encouraged to access cooking and nutrition workshops. If she struggles with mental illness, she will be connected to a behavioral healthcare provider. Whatever obstacles arise throughout her pregnancy, a specialist will be standing by to help her overcome them.
In the next five years, Dr. Goje and her team envision introducing this model of wraparound care across the region, with a focus on five areas with the highest rates of infant mortality: Kinsman-Fairfax, South Collinwood, East Cleveland, Warrensville Heights and Maple Heights.
"We want these communities to be healthy and productive," says Dr. Goje. "If our patients are spending all their time navigating doctors' appointments, then we are limiting their potential to contribute to their families, friends and communities in the ways they would like."
"We are looking into the future and improving the health of entire communities and healthcare systems."
— Oluwatosin Goje, MD
Community Partnerships
The third strategy for propelling the Center for Infant and Maternal Health to success is to leverage new and existing community partnerships. An infectious disease specialist as well as an OB-GYN, Dr. Goje has witnessed the ability of people and organizations that are deeply embedded in a local community to meet the needs of those around them in times of crisis.
Cleveland Clinic's OB navigators and CHWs are taking the lead in identifying local partners with a shared commitment to innovative models of care. Partners include organizations like Birthing Beautiful Communities, a group of doulas whose impact in areas like pain management and breastfeeding is so significant that Medicaid has begun to cover their services. Recently, Cleveland Clinic and Birthing Beautiful Communities teamed up to run a successful perinatal support specialist program that supported 50 women for 80 weeks.
The Centering Pregnancy Institute, another strategic partner, offers a model for group-based care that makes participants feel less alone in their pregnancy and postpartum journeys. To date, Cleveland Clinic has trained 32 new providers to help expand its Centering Pregnancy program.
These organizations are two of many that work closely with the Center for Infant and Maternal Health. Every day, OB navigators and CHWs add to their growing list of shelters, food banks, churches, mosques, government agencies and other community organizations that serve mothers and babies across Northeast Ohio.
As the center continues to treat more patients, hire more team members and establish more partnerships, its leaders are clear-eyed about the challenges that await. It is not lost on them that until now, most efforts to tackle high infant and maternal mortality rates have failed to produce measurable results.
"The work before us is endless," says Dr. Ridgeway. "Fortunately, we have passionate, engaged philanthropic partners who are committed to moving the needle in the right direction. They helped get this center off the ground and will continue to play a critical role in making it successful."
From Dr. Goje's perspective, Cleveland Clinic's donors are stepping up to "be a voice for mothers and babies."
"Together, we are building a center of excellence that shows the world how to care for patients experiencing persistent disparities in access to care and health outcomes," she says. "And in doing so, we can rewrite the future of entire communities for generations to come."