Earning and Learning
Apprenticeships can lead to rewarding careers and help Cleveland Clinic combat the nationwide employee shortage.
For two and a half years, Erica Davis worked in environmental services at Cleveland Clinic's Taussig Cancer Center.
She sanitized exam rooms, cleaned up spills and handled other tasks required of her job. She found it gratifying to work within a healthcare setting, but she wondered what else she could do at Cleveland Clinic that might have more growth potential.

Thanks to a technician in Taussig's pharmacy, she soon found out.

On her rounds, Davis became casually acquainted with Amanda Evans, who had something pleasant to say each time they encountered one another. "She always had a good spirit," Davis recalls. "She was just very kind."
For her part, Evans appreciated Davis' friendly, outgoing personality. "I can't say enough good things about Erica," Evans says. "She has shown initiative. She's ambitious. I see that she has set goals for herself and is determined to meet them."
So when Davis asked questions about what it's like to be a pharmacy technician, Evans happily explained. Sometimes Evans worked alone mixing medications. At other times, she delivered them, interacting with nurses in different units.
Davis liked that combination of independent work and collaboration. And when she learned that Evans had completed her training at Cleveland Clinic while receiving both pay and benefits, Davis says she was "blown away."
Wondering whether she had what it takes to do that too, Davis worked up the courage to ask Evans to put her in touch with someone from the pharmacy apprenticeship program. That was in December 2022.
Evans immediately contacted David Swindler, Program Coordinator for Cleveland Clinic's School of Pharmacy Technology. Soon afterward, Davis had a big decision to make. The next class was starting in mid-January, and she had a spot if she wanted it.
The prospect was daunting. The training had just been revised to ramp up both the number of apprentices in the pipeline for Cleveland Clinic jobs and their professional accountability. January's class — the largest to date with six members — would be the first to go through an accelerated 18-week program requiring the successful completion of 10 learning modules and 300 training hours in Cleveland Clinic's Central Pharmacy.
"At first I was kind of skeptical because I was like, 'What if I don't make it through?" Davis says.
But wanting to build a better life for herself and her two sons, ages 3 and 5, she went for it. "Something in my heart was just telling me, 'You wouldn't get this opportunity if it wasn't meant for you,'" she says.
Swindler himself is a graduate of pharmacy technician training at Cleveland Clinic.
He started in 2019, three years before it became a formalized 40-hour-a-week "earn and learn" program.
Back then, the online learning modules were self-paced. Participants could take up to a year to complete their coursework. Not anymore. Current class members are assigned a module on a Monday and have to finish it by the end of the workweek.
The point is to prepare trainees for life after graduation. "We can give them the answers," Swindler says, "but we're really trying to empower the apprentices to take ownership."
From the very start of their training, apprentices are held to professional standards, which includes how well they come together as a team. They need to support one another and show respect, Swindler says, because in the real world, the pharmacy itself works better on behalf of patients if everybody is working together.
Swindler is impressed with how well the winter class did in the accelerated program. "This is the first time we had piloted this, and a lot was expected of them," he says. "They really took this opportunity and ran with it. It was better than we had hoped for."
Although Davis was skeptical about how well she could do in the class, she worked hard through the duration of the training.
"It was a journey," she says. The best part, she says, was "making a difference by being able to get these medications to people on time."
Now she's a full-time employee, with shifts at Central Pharmacy and the pharmacy at Cleveland Clinic Children's. Her day-to-day work includes running the carousel where the medication orders come in, as well as preparing meds for delivery and delivering them to patients. In pediatrics, she's also doing some compounding, mostly making up the liquid that goes into oral syringes.
"It's a different feeling, waking up, knowing that I'm going to help people out," Davis says. "That's the main goal at the end of the day."
And she knows that she made the right choice for herself and her boys. "I'm going to teach them to never give up, no matter how hard it may get," she says. "You just keep thriving, keep going."
Postscript: As this issue of Cleveland Clinic Magazine went to press, Erica Davis received great news: She passed the board exam to become a Certified Pharmacy Technician. Congratulations, Erica!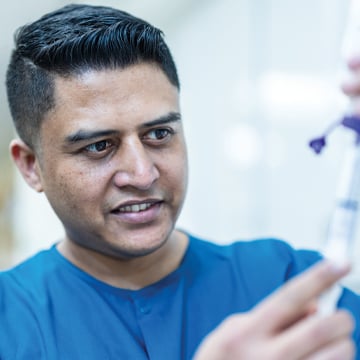 'It's a Wonderful Opportunity'
Sontosh Sedhai, one of six graduates of the winter 2023 pharmacy technician class, came to the training from outside Cleveland Clinic. As far away, in fact, as Nepal.
His path to Cleveland began in his home country when he attended a family wedding and met his future wife, Dhan Maya Pyakurel, who has lived in the United States since 2008. After their marriage, he moved to America with her in 2021.
Pyakurel, a nurse at a facility in North Royalton, Ohio, encouraged Sedhai to explore a career in healthcare, particularly at Cleveland Clinic, where six of her relatives work. One of the relatives is her aunt, Indra Maya Pyakurel, a pharmacy technician graduate who works full time in the Cleveland Clinic Hillcrest Hospital pharmacy. She talked up the program to Sedhai, who became a star pupil.
Coordinator David Swindler, himself a graduate, says that one of the trainers described Sedhai as "the greatest student I have ever trained." Swindler laughs when he recalls his response to her: "Wait a minute — you trained me!"
To celebrate his graduation, Sedhai went skydiving with a ticket that his wife bought him in honor of his accomplishment.
He passed his boards on his first try. As soon as he learned the results, he excitedly called Swindler with the news, then headed over to the Central Pharmacy to start his shift. When he arrived, Lead Pharmacy Technician Angela Labossiere prompted Sedhai to tell his co-workers about his achievement. They burst into applause.
"I feel great," says Sedhai, who has accepted a full-time position with shifts at the Central Pharmacy and the Sydell and Arnold Miller Family Heart, Vascular & Thoracic Institute pharmacy. "It's a wonderful opportunity that Cleveland Clinic gave me."