PULSE
Gift Will Save Lives Worldwide
IMPACT
The United Arab Emirates has made A TRANSFORMATIONAL GIFT TO CLEVELAND CLINIC IN THE NAME OF H.H. SHEIKHA FATIMA BINT MUBARAK to accelerate research in cancer and pathogens. The gift also will enable partners and trainees from the UAE to work and learn alongside leading Cleveland Clinic researchers.
"We are deeply grateful to United Arab Emirates for this extraordinary gift, which enables us to grow our research infrastructure and make discoveries that will lead to lifesaving new treatments and vaccines for patients around the world," says Serpil Erzurum, MD, Cleveland Clinic's Chief Research and Academic Officer.
In honor of the gift, the Global Center for Pathogen and Human Health Research will be named the Sheikha Fatima bint Mubarak Global Center for Pathogen and Human Health Research. It anchors the Cleveland Innovation District, future home of the new Sheikha Fatima bint Mubarak Global Pathogen Research Center.
Additionally, the gift provides support for pathogen research at the Cleveland Clinic Florida Research and Innovation Center (FRIC).
The gift also establishes the Sheikha Fatima bint Mubarak Endowed Chair to support the Global Center for Immunotherapy & Precision Immuno-Oncology, which is advancing research and treatment in the rapidly growing field of cancer immunotherapy. Director Timothy Chan, MD, PhD, a pioneer in precision immuno-oncology, is the inaugural chair holder.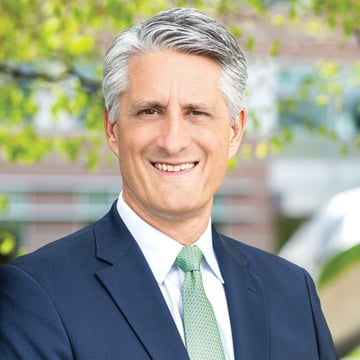 DATELINE: U.K.
Ready to Lead in London
ROBERT LORENZ, MD, has been appointed President of Cleveland Clinic London, effective June 1.
Over the course of a career that spans more than 20 years with Cleveland Clinic, Dr. Lorenz has served in a variety of roles, including head and neck surgeon, innovator and educator. He also was Chief Medical Officer of Cleveland Clinic Abu Dhabi. More recently, he led efforts to document the complexity of Cleveland Clinic's care and oversaw clinical aspects of the health system's government and commercial contracts.
"The team at Cleveland Clinic London has established an outstanding reputation," Dr. Lorenz says. "I am excited to join the team and continue [its] focus on high-quality care while leading accelerated growth."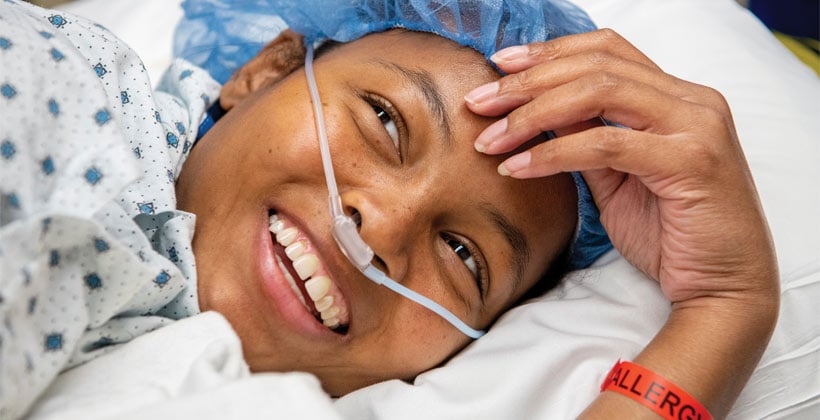 UPDATE
Taking Aim at Sickle Cell Disease
Preliminary data from a clinical trial aimed at discovering A CURE FOR SICKLE CELL DISEASE yielded positive results. Cleveland Clinic is part of the multicenter study to evaluate the safety and effectiveness of a single dose of EDIT-301. This gene-editing cell therapy modifies a patient's own blood-forming stem cells to correct the mutation responsible for sickle cell disease. Few approved therapies are currently available for sickle cell disease, a genetic blood disorder that can be painful and debilitating. It most commonly affects Black and Latino people. Two of the first four patients in the trial are participating through Cleveland Clinic Children's. Data showed new white blood cells and normal hemoglobin levels in all patients following therapy, with no severe adverse effects. They also were free of the pain attacks associated with sickle cell disease. "New treatments like this are critical for people who have sickle cell disease," says Rabi Hanna, MD, principal investigator at Cleveland Clinic Children's.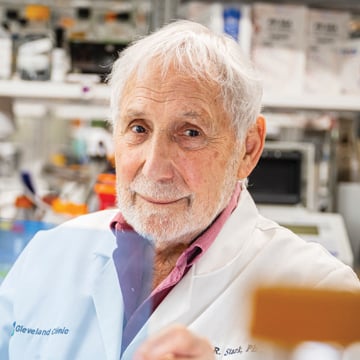 MILESTONE
Happy Birthday, Dr. Stark
How do you celebrate a milestone birthday for a Cleveland Clinic Distinguished Scientist?
If the birthday boy happens to be GEORGE STARK, PhD, a principal investigator in cancer biology, you host a daylong symposium in his honor. The Lerner Research Institute did just that in July, when Dr. Stark turned 90.
This former LRI Chair is still going strong. He recently co-authored results on a novel topical skin cancer treatment and co-secured a $12 million grant to study how inflammatory cytokines affect cancer progression.
A native of New York City, Dr. Stark previously ran labs at Stanford University and at the Imperial Cancer Research Fund in London. In 1992, he joined Cleveland Clinic, where he and his late wife, Mary, established the George and Mary Stark Research Education Endowment to provide assistance for up-and-coming researchers.
"As scientists, the infinite reward comes in tackling the big problems," Dr. Stark says. "My advice to the next generation: Ask the big questions. Don't stop exploring the questions that matter."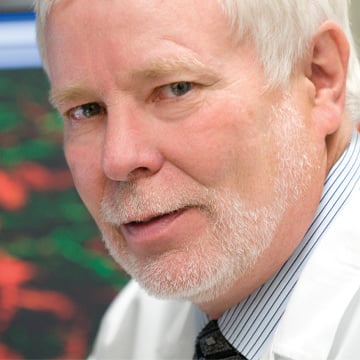 INNOVATION
MS Researcher Honored
BRUCE TRAPP, PhD, is the winner of the 2023 Sones Innovation Award.
Dr. Trapp is internationally known for his work on the mechanisms of neurodegeneration and repair in multiple sclerosis. He is Chair of the Department of Neurosciences at Cleveland Clinic's Lerner Research Institute and holds the Morris R. and Ruth V. Graham Endowed Chair in Biomedical Research. He also has launched a spinoff company, Cashel Neural, to develop and commercialize novel MS therapies.
"The motivation is the MS patient," Dr. Trapp says. "That's what really brings me in here every day — making an impact. My best research is yet to come."
The Sones Innovation Award is presented annually to a Cleveland Clinic caregiver for outstanding advances in care. The award is named after the late F. Mason Sones, MD, trailblazing Cleveland Clinic cardiologist.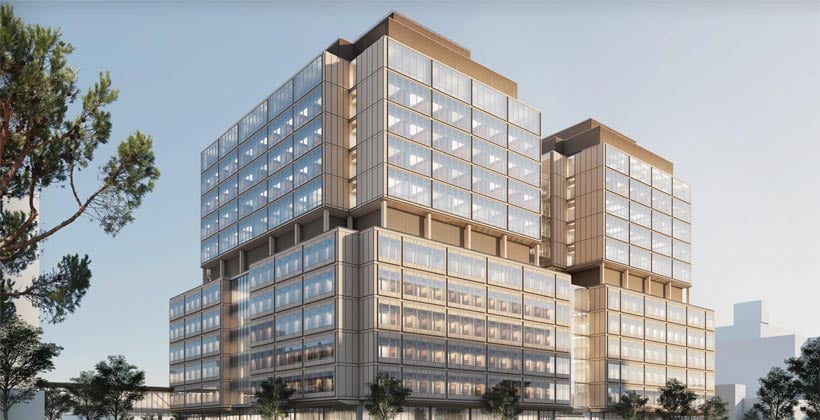 PREVIEW
A Next-Level Home for Neuro
The NEW NEUROLOGICAL INSTITUTE BUILDING under construction on Cleveland Clinic's main campus promises to take inpatient and outpatient neurological care to the next level.
Customized for people with neurological disease, the edifice will emphasize open spaces and intuitive wayfinding. Consenting patients will have key health data captured by sensors as they interact with the building and caregivers. Plans also call for a Discovery Space where clinicians, scientists and engineers will collaborate on new interventions.
"What will be most notable about this building is not something structural but rather that it is wholly designed with people in mind — patients with neurological disease, their loved ones and the clinicians and researchers caring for them," says Neurological Institute Chair André Machado, MD, PhD.
The 1 million-square-foot building is scheduled to open in 2026.