THEN NOW NEXT
Nursing Education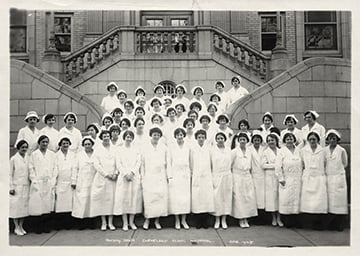 THEN
In 1921, Cleveland Clinic opened with four nurses. In an unusual decision for the time, leadership went on to staff the clinic and its adjacent hospital with graduate nurses. The feeling was that an experienced nursing staff would provide the best patient care.
Nearly 80 years later, a nursing shortage was impacting the nation. In response, Cleveland Clinic made major financial investments in nursing programs and operations, including a tuition assistance program for nursing students; flexible scheduling; premium pay for nurses, unit secretaries and other staff working extra shifts; and a retention bonus for registered nurses with two years of continuous service.
In 2002, longtime Cleveland Clinic advocate Stanley Shalom Zielony (1923-2012) recognized the need for nurses and assistance for nurses seeking advanced degrees. He generously funded the Stanley Shalom Zielony Endowed Chair for Nursing Advancement and established the Stanley Shalom Zielony Center for Advanced Nursing Education, providing scholarships for more than 1,000 Cleveland Clinic nurses to pursue undergraduate degrees and advanced nursing degrees.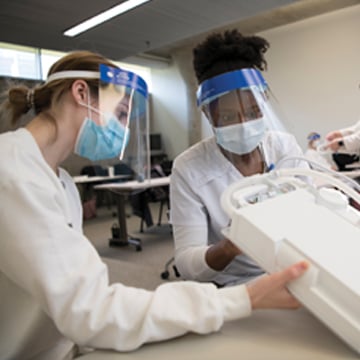 NOW
Today, the Stanley Shalom Zielony Institute for Nursing Excellence oversees the practice and education of nearly 35,000 nurse caregivers in the Cleveland Clinic health system.
In 2016, the ASPIRE Nurse Scholars Program, an enrichment program designed for 25 Cleveland-area high school juniors interested in pursuing a career in nursing, was established by Cleveland Clinic and supported by a $10 million gift from the Howley Foundation. The program seeks to increase diversity in healthcare, address opportunity gaps and reduce health disparities in the community.
Cleveland Clinic is recognized by the National League for Nursing as a Center of Excellence in creating workplace environments that promote the academic progression of nurses.
NEXT
Despite another critical nursing shortage exacerbated by the COVID-19 pandemic, Cleveland Clinic is committed to providing a dynamic and technologically advanced environment for nurses, through continuing education, research opportunities and an empowering organizational model. The Howley Foundation expanded its commitment to nursing education with a recent gift of more than $12 million that will double the number of nurse scholars at Cleveland Clinic. Now called the Howley ASPIRE Nurse Scholars Program, the initiative will enroll approximately 50 students from Cleveland-area high schools interested in nursing careers, beginning in Fall 2023.