GIFT PLANNING
The Need Is Now
Gerry Wendel believes there are three stages to giving a gift. The first is when you think about giving a gift. The second is when you give the gift. The third is when you see the result of your gift.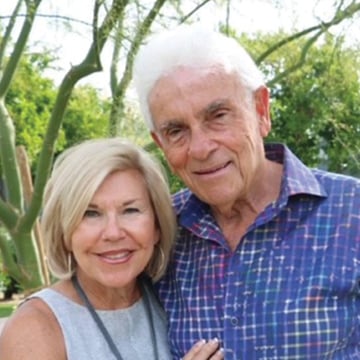 Gerry and his wife, Diane, have spent a lifetime relishing the third stage, when they're able to see firsthand what happens when they discover new ways to make a difference in the lives of children.
A combination of outright and planned gifts to Cleveland Clinic, Cleveland Clinic Children's and other charitable endeavors is the result of the Wendels' passion for finding creative ways to improve the lives of young people all over the country. Their generosity has funded pediatric research, a neurodevelopmental support program for children with complex chronic conditions, a therapeutic riding program and free eyeglasses and exams for children in need.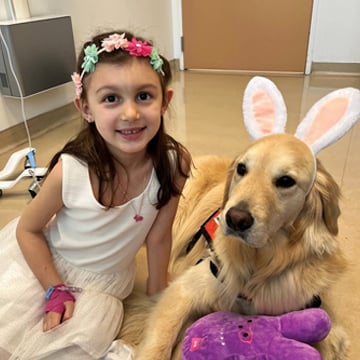 Most recently, during a stay at Cleveland Clinic, the Wendels met Kid and Trotter, Cleveland Clinic Children's golden retriever facility dogs.
"It was love at first sight," says Diane.
Upon seeing the joy that the dogs brought to kids receiving treatment, they decided to help contribute to the facility dog program too.
"A child who is going through an infusion and petting a beautiful golden retriever and, as a result, not being concerned so much about the infusion, you can see that result. You can see that you're making a difference in people's lives, and that's where we get the most joy," says Gerry. "A true act of giving is to be able to give and ask for nothing in return but that joy."
Decades ago, Gerry created the Lisa Wendel Memorial Foundation in honor of his daughter from his first marriage to share his love of helping children in need. While Lisa's young life was cut short by leukemia, her memory lives on through the many lives that have been changed by the philanthropic work of the foundation.
"It's all about the joy of giving," says Diane. "We want to realize while we're alive that we could make a difference in people's lives; it will be our legacy. I think with children, we see our philanthropy go to work immediately, and that's what's so special for us."
A blended gift is the combination of a current outright gift and a planned gift, such as a bequest, charitable trust or charitable gift annuity. Blended gifts enable donors to see the impact of their giving today while continuing to support Cleveland Clinic's mission in the future.
"We try to encourage people to act now because the need is now. We can identify the current need, but we don't know what the future need will be," says Gerry. "You just give from your heart, knowing that you're going to make a difference in other people's lives. We want to find the needs now and make a gift now so that we can see the impact."