Cleveland Clinic and IBM are teaming up to create the Discovery Accelerator, a center that will use artificial intelligence, high-performance computing on the hybrid cloud and quantum computing technologies to quicken the pace of discovery in healthcare and the life sciences. As part of the collaboration, the first IBM Quantum System One computer (pictured above) in the private sector will be installed on Cleveland Clinic's main campus.
The leading-edge partnership promises to empower big data medical research in ethical ways while preserving patient privacy. The hope is that these high-tech tools also will lead to breakthroughs for patient care and novel approaches to pandemics and other public health threats.
"Through this innovative collaboration, we have a unique opportunity to bring the future to life," says Cleveland Clinic CEO and President Tom Mihaljevic, MD. "The Discovery Accelerator will enable our renowned teams to build a forward-looking digital infrastructure and help transform medicine, while training the workforce of the future and potentially growing our economy."
The Discovery Accelerator is a cornerstone of the new Cleveland Innovation District, supported by a $500 million investment from the State of Ohio, JobsOhio and Cleveland Clinic. The district is also a hub for Cleveland Clinic's Global Center for Pathogen Research and Human Health, whose researchers will utilize the Discovery Accelerator to enhance their work in chemical and drug discovery, genomics, population health and other areas.
Cleveland Clinic is the No. 2 hospital in the world, according to Newsweek's World's Best Hospitals 2021 rankings.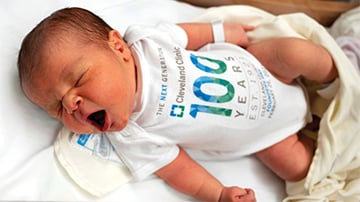 Happy Birthday
Cleveland Clinic kicked off its centennial festivities with Founders Day on February 26, 100 years to the day that Frank Bunts, MD; George Crile Sr., MD; William Lower, MD; and John Phillips, MD, marked the opening of their not-for-profit multispecialty group practice dedicated to patient care, research and education. A virtual celebration included greetings from Gloria Estefan, Norma Lerner, Arnold Schwarzenegger and other prominent well-wishers, as well as the premiere of the docuseries "A Century of Care," a panel discussion with Cleveland Clinic leaders on the future of healthcare and special musical performances by Johnny Rzeznik of the Goo Goo Dolls and members of the Cleveland Orchestra. Even our youngest friends got in on the fun: Newborns at Cleveland Clinic locations in Ohio and Florida were decked out for the occasion in centennial onesies.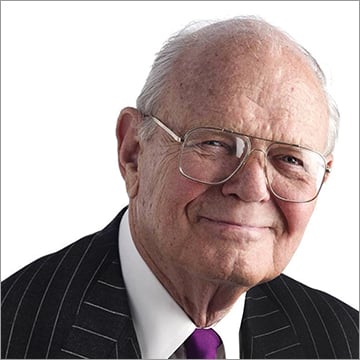 Catalytic Capital
Created with a $1.75 million gift to Cleveland Clinic from the Morgenthaler Foundation, the David T. Morgenthaler Catalyst Award will allocate crucial seed funding to launch promising medical technologies, explore novel research ideas and design life-changing healthcare solutions. The award honors the memory of David T. Morgenthaler (right), a trailblazing mechanical engineer, venture capitalist and philanthropist with close ties to Cleveland Clinic. He served on the Board of Trustees for more than 25 years and headed its finance committee, helping to oversee Cleveland Clinic's evolution from regional provider to global leader. He and his wife, Lindsay, also established an endowed fellowship fund in the Lerner Research Institute. Morgenthaler died in 2016 at the age of 96. "During his many years of service to Cleveland Clinic, David had a profound impact," says Delos "Toby" Cosgrove, MD, CEO and President of Cleveland Clinic from 2004 to 2017. "His passion for innovation will live on through this generous gift."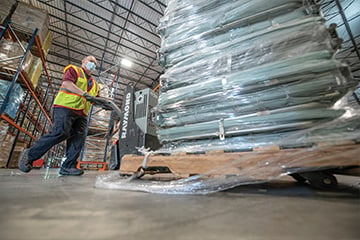 India's Hour of Need
As COVID-19 cases surged in India, Cleveland Clinic shipped more than 130 pallets of Critical Hospital Supplies — including personal protective equipment, cots and mattresses — to the Indian Red Cross Society in May. A relief fund also has been established to raise money for purchasing medicine, supplies and equipment, including oxygen concentrators and ventilators. To make a donation, please visit give.ccf.org/IndiaCOVID19Crisis.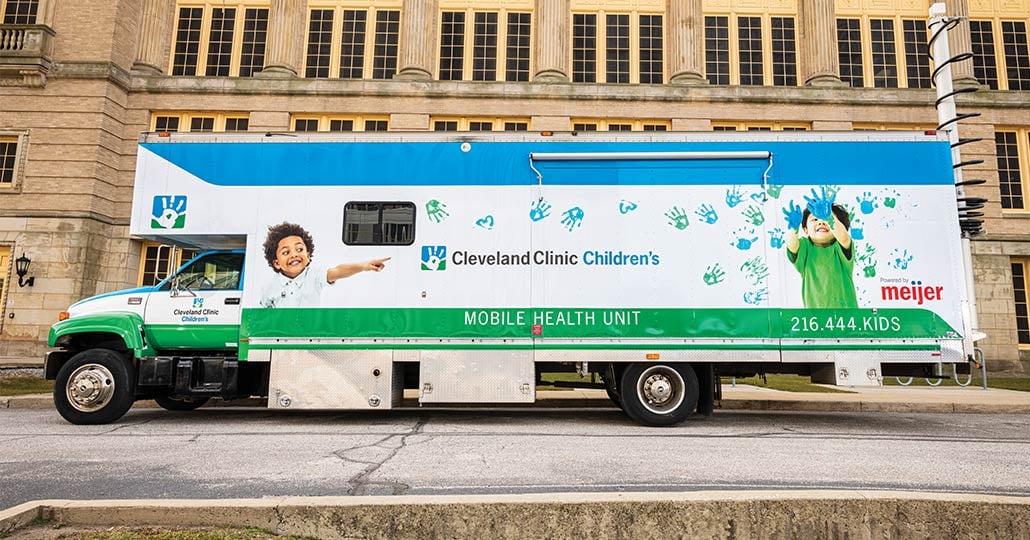 On the Road
Cleveland Clinic Children's soon will have two mobile units, thanks to a $2 million donation from Meijer. The vehicles are essentially pediatric offices on wheels. They will visit schools throughout Northeast Ohio to provide health and wellness services — including physical exams, first aid, immunizations and diagnosis and treatment of acute and chronic illness — for K-12 students, regardless of their health insurance status. "We're pleased to continue our partnership with Cleveland Clinic to not only expand convenient access to healthcare services for children, but to also meet them where they are — at school," says Rick Keyes, President and CEO of Meijer, which operates more than 250 supercenters and grocery stores in six states.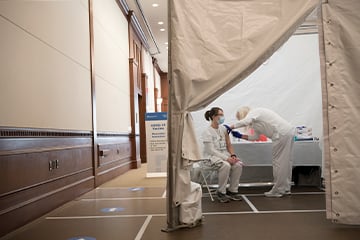 'Part of the Family'
More than 75 nurses recently came out of retirement to help administer COVID-19 vaccines at Cleveland Clinic hospitals. Among them was E Mary Johnson, BSN, AMB-BC, NE-BC, who joined Cleveland Clinic in 1974 and retired in 1999. "It's a relief to be able to do something to help mitigate the spread of the virus," Johnson says. "Once you're a nurse at Cleveland Clinic, you're always part of the family."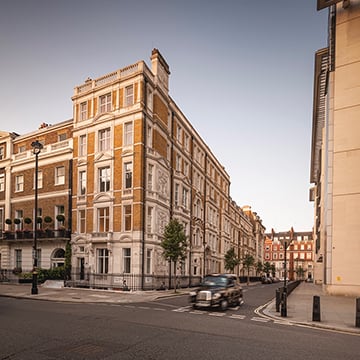 See You in September
Cleveland Clinic London is putting the finishing touches on its Portland Place Outpatient Centre (Right). Located in central London's Harley Street Medical Area, the six-story, 28,000-square-foot facility will see patients for outpatient appointments, diagnostics and general practice appointments. It opens in September.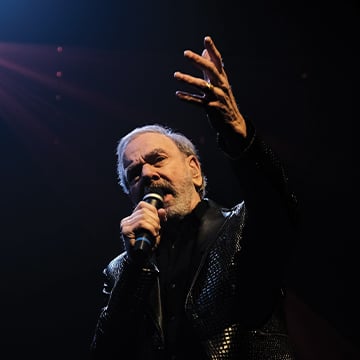 Mark Your Calendar
The Power of Love gala is set for October 16, 2021, in Las Vegas. Now in its 25th year, this event is a star-studded benefit for Cleveland Clinic Lou Ruvo Center for Brain Health. For details, visit www.keepmemoryalive.org/PoL.