CAREGIVER CATALYST GRANTS
Helping the Homeless
The Need
As a new medical student, Jeremy Weleff, DO, joined a group that cared for the homeless in Detroit. It sparked his desire to do something about homelessness through medicine. When Dr. Weleff began his residency at Cleveland Clinic, he realized there was no process for identifying homeless patients seeking care. This made it hard to meet the specific needs of these patients, including connecting them with resources to improve their lives beyond the hospital. The need to care for this population became only more urgent as COVID-19 hit the U.S.
The Facts
Research indicates that the homeless have physical conditions that mirror those of people 15-20 years older. On a single day, an estimated 202,623 adults experiencing homelessness are over age 50, suggesting that they may be uniquely vulnerable to becoming ill, especially in a pandemic.

The Idea
Dr. Weleff was awarded a $30,000 Caregiver Catalyst Grant in January 2019 to pilot programs that would ensure the best care for the homeless population. The first step? Identify how many patients who came to Cleveland Clinic's Main Campus Emergency Department were homeless. It was determined that approximately 7,500 homeless patients, including nearly 1,000 children, had sought care there in recent years. This led to the formation of a team that created projects to ensure all patients are screened for homelessness to connect them to the best possible care. The team also started a transportation program for follow-up appointments and a hospital-to-housing program.
The Impact
Being able to identify homeless patients and provide them with transportation to appointments ensures they're connected to primary and specialty care. The program already has provided more than 4,000 free rides. Dr. Weleff and his team have partnered with community organizations to link homeless patients in psychiatric units with an additional community health worker who can address health and social needs, and they've set up data-sharing agreements between the healthcare system and community organizations that let them assess the impact of these interventions and possible improvements. They've also presented at the annual meetings of the American College of Emergency Physicians and the American Academy of Child and Adolescent Psychiatry, and are working to change how to improve the care of homeless individuals nationwide.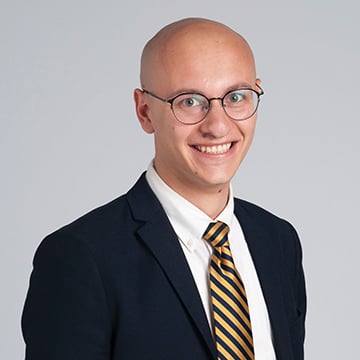 When the pandemic began, patients with COVID-19 in the Cleveland area who were homeless didn't have anywhere to go to self-isolate, quarantine or recover safely. If you don't have anywhere to live, how can you take care of your health, let alone have the best chance of surviving a pandemic?"
— Jeremy Weleff, DO, created a countywide Homeless COVID-19 Hotel Response for homeless individuals who tested positive for the virus but had nowhere to quarantine.