VELOSANO
Jump-Starting Cancer Research

VeloSano (Latin for "swift cure") is Cleveland Clinic's premier year-round fundraising initiative in which 1OO% of dollars raised supports lifesaving cancer research.
The flagship fundraiser associated with VeloSano is the annual "Bike to Cure" weekend hosted in Cleveland. In addition to providing enjoyable bike ride options from 10 miles to more than 200 miles, there are virtual participation options for anyone inspired to get involved from anywhere in the world.
"Bike to Cure" participants commit to raise a predetermined fundraising minimum, and all dollars raised are quickly turned around to fund cancer research projects by spring of the following year.
The dollars provided by VeloSano are needed more than ever. Since the COVID-19 pandemic began, federal grants have been mostly directed toward treatments and vaccine research for COVID-19. Generous gifts supporting VeloSano, as well as the participants raising funds, make it possible for Cleveland Clinic's most promising cancer research to come to fruition.
Read on to learn more about two of the research projects getting a jump-start from funds raised from VeloSano in 2020.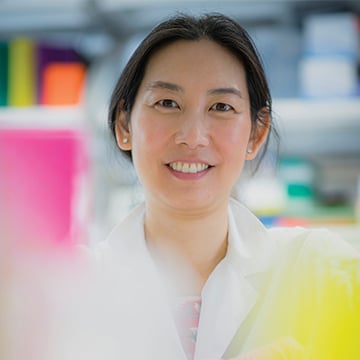 A New Tool Targets Glioblastoma
Glioblastoma is an incurable primary brain tumor that is resistant to standard cancer treatments. Glioma cancer stem cells are highly malignant and are frequently located in areas of the brain that don't get much oxygen, which makes them more even difficult to kill with radiation.
New research led by Jennifer Yu, MD, PhD, looks to test the vulnerability of the most aggressive cancer cells and come up with a new way to target them. If successful, not only will Dr. Yu's team help develop new therapies for glioblastoma, but the treatment strategy may also be extended to other cancers, including smoking-associated lung cancer and renal cell cancer.
"We're extremely grateful to VeloSano for supporting our research," says Dr. Yu. "These funds are essential for our exploration of high-risk, high-reward avenues of research. The support allows us to discover new therapeutic vulnerabilities, develop data to be competitive for larger grants and train the next generation of scientists."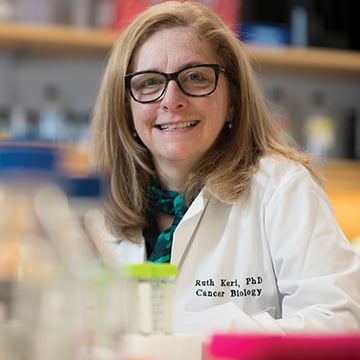 Battling Aggressive Breast Cancer
Triple-negative breast cancer (TNBC) is a highly aggressive disease that disproportionately affects young and Black women. Women diagnosed with TNBC are treated with chemotherapy, but the cancer often spreads within two to three years. Once that happens, treatment options are very limited.
A new project led by cancer biologist Ruth Keri, PhD, drills down to a very specific protein called SMC2, believed to be one of the culprits that makes TNBC so deadly. By developing a better understanding of how SMC2 might make TNBC more likely to spread and more difficult to treat, Dr. Keri hopes to be able to design more effective therapies for this particular type of breast cancer.
"We're so grateful for these VeloSano funds, which are helping us make a conceptual leap forward in identifying how triple-negative breast cancers can resist chemotherapy and recur," says Dr. Keri. "Our ultimate hope is that our research will make a difference in the lives of our patients."