Rising to the Challenge
Charlie Shor's generosity supports epilepsy research and a new building for Cleveland Clinic's Neurological Institute
Calling the shots at the world's largest paper bag company doesn't come without a few headaches. Just ask Charlie Shor.
For more than 25 years, he led Duro Bag Mfg, a Covington, Kentucky based manufacturer with more than 1,000 employees. He took the helm in 1987 after the passing of his father, who founded the company.
Despite his stressful job, Shor had always considered himself to be in good health. When he was 25, however, everything changed during a business trip to New York City.
"I was on my way to a dinner where I knew I would be sitting at the head table," he recalls. "To my surprise, I got in the cab and I had a seizure."
Soon afterward, he began to experience more seizures, almost daily. After seeking medical care, he was diagnosed with epilepsy and prescribed medication to control his seizures.
Despite the setback, Shor didn't let epilepsy slow him down. He successfully led Duro until 2014, when he started the Charles L. Shor Foundation, which funds epilepsy research.
Along the way, Shor spent decades searching for the right fit for his medical care and his ideas for research. He knew there had to be a doctor who would consider his theory that perhaps stress was a contributing factor to his seizures. Then he met Imad Najm, MD, of Cleveland Clinic. They worked together on a personalized treatment plan that involved not only some medication, but also sleep apnea treatment and lifestyle modifications, including diet and managing triggers for stress.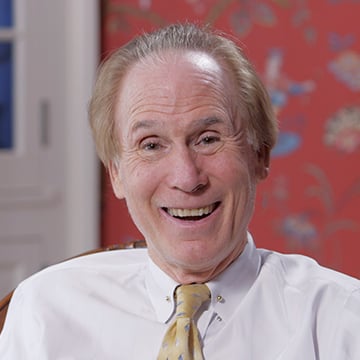 Today, Shor typically only has one seizure per year. He's thankful for the progress he has made with the help of Cleveland Clinic, but he knows the fight against epilepsy doesn't end with him. That's why he has committed $5.5 million to fund a novel research study, led by Dr. Najm, to examine the different ways that nonpharmaceutical efforts can help others with epilepsy.
"Many people are working on medication and surgeries for epilepsy," Shor told Dr. Najm. "Would you be willing to work on getting somebody to look beyond medication or surgery?"
"You know what, Charlie?" Dr. Najm replied. "I've never been challenged like you're challenging me here. I'm going to take on this challenge."
This landmark study will look at the effect of health optimization — particularly stress relief — on seizure control, as well as memory preservation and restoration on a group of 1,000 patients with epilepsy. The goal is to learn new ways to fully control seizures using alternative non-pharmacologic interventions, to improve and ultimately prevent memory decline in patients with epilepsy and to organize international conferences on non-pharmacologic stress control interventions and their effects on both seizure control and memory function.
"Through this research," Shor says, "I'm hopeful that when someone has a seizure, before they look at taking medicine, they're going to look at what's happening in their life."
His desire to help others with epilepsy and his appreciation for his care at Cleveland Clinic has also led Shor to make a generous donation of $10 million toward the construction of a new Neurological Institute building on Cleveland Clinic's main campus. It promises to be the launch pad for what Cleveland Clinic Neurological Institute Chair Andre Machado, MD, PhD, refers to as a "moonshot" ambition: Stop neurodegenerative disorders such as Alzheimer's disease and Parkinson's disease from developing in the first place, rather than treating them after they've developed.
The Neurological Institute's strengths in neurology, neurosurgery, psychiatry and rehabilitation will come together under one roof in the new building, designed to serve the unique needs of people with neurological conditions. In the "waiting room of the future," for example, advanced technology will capture neurological functions digital data during the intake process. Instead of playing with their phones or watching television before their appointments, patients will complete assessments on an electronic tablet to measure neuroperformance, with the results available immediately for review with their caregivers.
In gratitude for Shor's gift, the epilepsy center in the new building will be named the Charles Shor Epilepsy Center.
"The building looks exciting," Shor says. "But most importantly, the people inside the building and the care and devotion that they bring are key. Putting patients first makes the patients' confidence so much stronger. It also makes the doctors cognizant of why they're there, what needs to get done and why it gets done. No matter who you are, all patients are going to be treated extremely well."