Unique Care for Older Adults
Emergency Department earns prestigious accreditation
Cleveland Clinic's Main Campus Emergency Department has received a Level 1 Geriatric Emergency Department Accreditation from the American College of Emergency Physicians.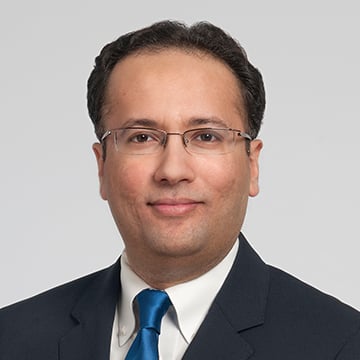 Cleveland Clinic is one of only 16 U.S. hospitals to achieve this distinction, the professional organization's highest level.
Chair Bradford L. Borden, MD, FACEP, and Stephen Meldon, MD, of Cleveland Clinic's Emergency Services Institute spearheaded the push for accreditation, with critical support from the Maria and Samuel H. Miller Foundation.
"Adults age 65 and older represent one of the largest populations seeking emergency care," says Saket Saxena, MD, a geriatrician and Co-Director of the Geriatric Emergency Department and Geriatric Care Unit. "Our Geriatric Emergency Department reflects a unique model of care where a dedicated geriatrician works alongside Emergency Department providers. Our resources include a geriatric care unit that focuses not only on acute needs, but also addresses and screens for other concerns that put older adults at an increased risk for hospitalizations."
The Geriatric Emergency Department Accreditation program aims to improve and standardize emergency care of older, high-risk adults, and is acknowledged by three levels of accreditation. To achieve Level 1 status, hospitals must meet more than two dozen requirements and best practices related to providing quality care for geriatric patients, such as enhanced staffing, educational programs for staff and methods of ensuring continuity of care. Dementia screening protocols, mobility and fall assessment and pain control protocols are also among the policies for Level 1 accreditation.
The idea of a geriatric emergency department has developed in the last few years as hospitals realize emergency department care looks different for different age groups. To help make the emergency department experience more comfortable for older patients, specially trained staff is required for accreditation.
Led jointly by the Emergency Services Institute and Cleveland Clinic's Center for Geriatric Medicine, the interdisciplinary program uses a team-based approach, including coordinated care among emergency medicine, geriatric medicine, nursing, pharmacy, social work, rehabilitation and case management.
"In the geriatric care unit, patients receive a comprehensive evaluation by an embedded geriatrician with expertise in the complex needs of older patients," says Ardeshir Hashmi, MD, FACP, Section Chief of Geriatrics and Endowed Chair for Geriatric Innovation. "Through evaluation, a dedicated geriatrics care team determines whether a patient needs to be admitted to the hospital, transitioned to a skilled nursing facility or prescribed home-care services."
Cleveland Clinic's geriatrics program is ranked No. 2 in the nation and No. 1 in Ohio in the U.S.News & World Report 2020-2021 Best Hospitals rankings.
Funding from the Miller Foundation is helping provide high-quality comprehensive geriatric care in the Emergency Department while aligning with accreditation requirements. The Millers' contributions to Cleveland Clinic are numerous and generous. Samuel Miller, co-chairman emeritus of Forest City Enterprises, was awarded Cleveland Clinic's highest honor in 2003: the designation of Distinguished Fellow. He died in 2019 at age 97.
With the U.S. population over 65 years of age projected to nearly double from 43 million in 2012 to 83 million in 2050, it's critical to address the unique healthcare needs of older adults. Following the accreditation of the Main Campus Emergency Department, the program was expanded to additional Cleveland Clinic regional emergency departments. The goal is for all Cleveland Clinic regional hospitals to be accredited.
"We're proud to receive this Level 1 accreditation that reflects Cleveland Clinic's commitment to providing comprehensive evaluation and patient centered care for high-risk geriatric patients," says Dr. Meldon, who serves as Co-Director of the Geriatric Emergency Department and Geriatric Care Unit. "This designation shows our continued efforts to elevate our level of emergency care to better serve our patients and community."