VeloSano 8 — the 2021 edition of this year-round fundraising initiative — was the most successful yet.
It generated $5.1 million, 100% of which supports lifesaving cancer research at Cleveland Clinic and Cleveland Clinic Children's.
"We're so grateful to everyone involved in making this a record-breaking year for VeloSano," says Jame Abraham, MD, FACP, Interim Chair of Taussig Cancer Institute. "The support, passion and energy are contagious and help us to continue to advance cancer research to the next level."
All told, VeloSano has raised nearly $30 million since its inception in 2014. Cleveland Clinic researchers compete for VeloSano funding, awarded to proposals that show the greatest promise. To date, VeloSano has seeded 170 cancer research projects, paving the way for $22 million in additional funding from the National Institutes of Health and other sources.
Supporters contributed to VeloSano last year in a variety of ways. Some were riders or volunteers at the September 2021 Bike to Cure event in Cleveland. Some participated around the globe as virtual fundraisers. Some were Trike & Bike junior riders, rallying behind pediatric cancer research. And some simply made donations to support the cause. To meet a few of the faces of VeloSano 8, read on.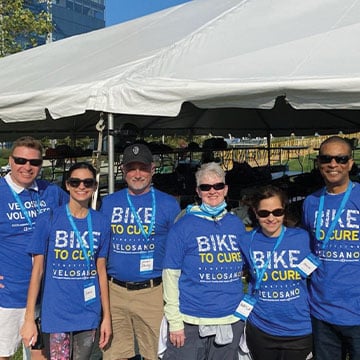 Bike to Cure volunteer DAVID KNIGHT (pictured here at far right) only recently moved to Cleveland, but his employer, Advance Ohio, has been a corporate partner of VeloSano from the beginning.
Knight and several co-workers staffed a tent where cyclists who rode in the event could check their belongings.
For Knight, the cause was personal. He's a renal cell cancer survivor.
"Everyone you meet through VeloSano has a story," he says. "It might be, 'I'm here for my brother who passed away.' Or, 'Our friend has cancer, and we're here to support him.' Whatever the reason, the stories are so inspiring. You're surrounded by people who care, people who are ready to make a difference, people who are coming together to put an end to this disease."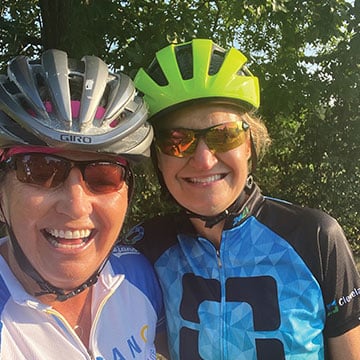 After PAM BENCHLEY of Dunkirk, New York, was diagnosed with stage 4 breast cancer in 2019, she sought a second opinion at Cleveland Clinic.
Her care team includes Halle Moore, MD, Director of Breast Medical Oncology at Taussig Cancer Institute. Like Benchley, Dr. Moore is a triathlete. "We usually end up talking more about swimming, cycling or running than cancer," Benchley says, laughing.
When she participated in the 100-mile Bike to Cure ride last year, Benchley (seen here at left) ended up riding part of the distance with Dr. Moore (right).
"For me, it's simple: I ride because I can," says Benchley, who shows no evidence of active cancer. "If you're blessed with being healthy, what are you going to do with it? When you do a triathlon, you're out there for yourself. With VeloSano, you're out there for others."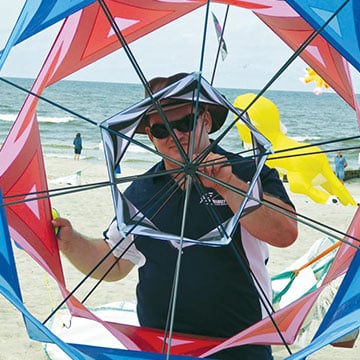 VeloSano virtual fundraiser PHIL BRODER is an award-winning kite enthusiast from Mechanicsburg, Pennsylvania.
He organized a unique auction in honor of his younger sister, Rebecca Broder Egolf. She died in June 2021 after a long battle with cancer, but not before her brother enlisted 50 of the world's top kite makers to create dozens of exquisite kites that were sold to the highest bidders. The online auction raised more than $40,000 for the VeloSano Cancer Research Fund as well as Cleveland Clinic's Lung Cancer and Drug Development Research Fund.
"To make a kite fly, there are four different forces at play: lift, gravity, thrust and drag," Broder says. "A kite flies because those forces are in balance. If anything is out of balance, it doesn't work."
A metaphor for life, perhaps? Says Broder: "It can be."