GIFT PLANNING
Giving Back with an Eye to the Future
Terry and Patty Cavanaugh made an estate commitment to support macular degeneration research
Terry Cavanaugh looks back on 2008 as a year full of changes.
He and his wife, Patty, moved to Erie, Pennsylvania, where he took on a new job as CEO of the Erie Insurance Group. But as he began this new chapter with a seemingly bright future in sight, his own sight began to fail him.
Cavanaugh had previously been diagnosed with a form of macular degeneration, a disorder that causes blurred or reduced eyesight due to thinning of the part of the eye responsible for central vision. After working with several different specialists over the years, he eventually learned about the Cole Eye Institute at Cleveland Clinic.
"I was familiar with Cleveland Clinic, but not the Cole Eye Institute," says Cavanaugh. "I did some research and learned more about the work being done there, and then I made a phone call."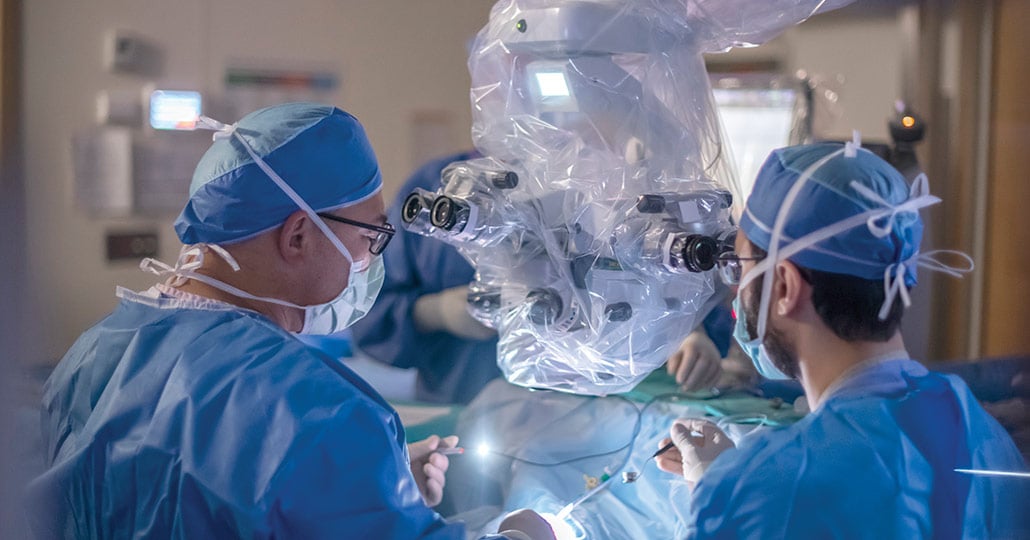 That phone call ultimately led to 10 years of care under the guidance of Daniel F. Martin, MD, Chair of the Cole Eye Institute and the Barbara and A. Malachi Mixon III Institute Chair of Ophthalmology. Dr. Martin, who is known for his clinical and research expertise in establishing new treatments for retinal diseases, has become a trusted partner and friend to Cavanaugh.
Every 10 weeks, Cavanaugh comes to Cleveland for an injection of a drug that Dr. Martin played a lead role in determining was highly effective for Cavanaugh's condition.
During their trips to Cleveland, Terry and Patty Cavanaugh began to take note of the many people who come to the Cole Eye Institute for care. They understood the debilitating nature of losing your ability to see and wanted to do something to help others.
In 2021, the Cavanaughs made an estate commitment for $1.5 million to support macular degeneration research. They have also made significant annual charitable gifts to the Cole Eye Institute to support the research with the hope of making a difference right now.
"When you're in the patient reception area, you see people young and old with their caregivers, and you begin to recognize just how important your sight is when it comes to maintaining your independence," Terry Cavanaugh says. "Having dealt with vision loss myself, and knowing how it impacts you on many levels, it made us want to help. Our hope is that the next generation can live a more vibrant, healthy life, well into their senior years — for themselves, for their kids and for the community. That's what we hope our commitment to the Cole Eye Institute will do."