London Calling
Cleveland Clinic comes to the United Kingdom
In the shadow of Buckingham Palace, in the heart of the storied cosmopolis that poet T.S. Eliot called "Unreal City," Cleveland Clinic London has become a reality.
It provides comprehensive medical and surgical services, with a focus on heart, vascular and thoracic care; digestive diseases; neurosciences; and orthopedics. Other specialties range from sports medicine to gynecology to executive health.
The new hospital — Cleveland Clinic's first in Europe — occupies a six-story, 325,000-square-foot structure. The erstwhile office building at 33 Grosvenor Place in the bustling Belgravia neighborhood of central London was rebuilt from the inside out.
"We'll integrate the best of Cleveland Clinic with the best of what we'll learn from U.K. healthcare," says Brian Donley, MD, FRCS, CEO of Cleveland Clinic London. An orthopaedic surgeon by trade, he previously served as Chief of Staff and Chief of Clinical Operations for the Cleveland Clinic health system.
"The United Kingdom is a center of clinical excellence, and people from around the world travel to London to receive treatment," Dr. Donley says. "As part of one of the world's most respected academic medical centers, we'll offer access to a global networkof physicians and specialists, as well as a world-class patient experience built around the best practices and core values of Cleveland Clinic."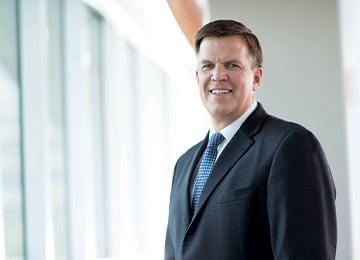 CLEVELAND CLINIC LONDON HOSPITAL
is among the most high-tech hospitals in the U.K., complete with integrated electronic medical record technology that utilizes apps and mobile devices to ensure patients are active participants in their care.
A unit-dose pharmacy robot individually wraps and tracks medication by barcode to a patient's bedside — a first for a U.K. hospital. This provides an additional level of safety in the delivery of medication.
Cleveland Clinic London Hospital is the only private U.K. hospital to offer intraoperative imaging for brain and spinal cord disorders. Patients also have access to advanced technology in other areas, including transcatheter aortic valve implantation (TAVI) and interventional endoscopy.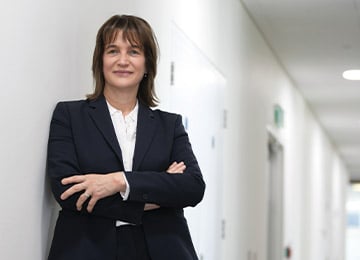 IN ADDITION TO ITS HOSPITAL,
Cleveland Clinic London runs the Portland Place Outpatient Centre. Located in the Harley Street Medical Area, the six-story, 28,000-square foot facility offers outpatient appointments, diagnostics and general practice appointments.
A new charitable organization, Cleveland Clinic Philanthropy U.K., also has been established. Every penny raised supports partnerships in training and research, including clinical fellowships; clinical training for physicians, nurses and allied health professionals; and executive training for healthcare leaders.
"Cleveland Clinic London will work a alongside and collaborate with the U.K. health and life sciences system to learn and share knowledge and continually improve patient care delivery," Dr. Donley says. "We'll support the U.K. healthcare community through education and training programs and partnerships with local government bodies, universities and royal colleges."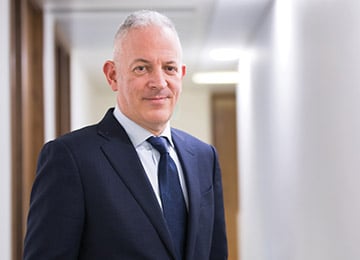 CLEVELAND CLINIC ALSO HAS LOCATIONS ABROAD
in Canada and Abu Dhabi. The arrival of Cleveland Clinic London holds promise for patients not only in the U.K. but around the world, via sharing data and best practices across an integrated global health system.
"Since our founding in 1921, Cleveland Clinic has been dedicated to high-quality patient care and furthering research, innovation and education," says Tom Mihaljevic, MD, CEO and President of Cleveland Clinic.
"As one of the leading healthcare cities in the world, London offers a rich ecosystem of these same principles. Cleveland Clinic London represents an opportunity to grow our global healthcare system by offering cutting-edge design and technology to meet the needs of our patients in the United Kingdom for the future of healthcare."