The Art of Caring
In pictures, a new book captures the essence of Cleveland Clinic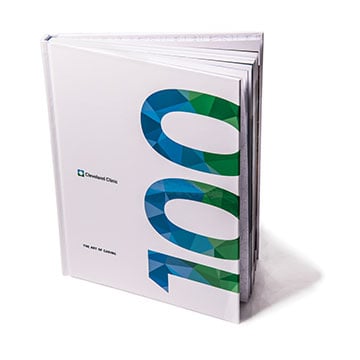 The photographs in 100: The Art of Caring reflect a fascinating duality.
Individually, the images are breathtaking in their emotional power and range. Together, they compose a stunning tapestry of caregiving in all of its forms. The common threads are empathy, dedication and teamwork — hallmarks of Cleveland Clinic since its founding in 1921.
Principal photographer Lynn Johnson, a renowned photojournalist whose work has been featured in National Geographic, Life and Sports Illustrated, was granted access to all aspects of Cleveland Clinic's operations. She spent more than nine months on this project.
Johnson is a documentary photographer who records events exactly as they occur; nothing in 100 is posed or staged. Patients and caregivers graciously consented to be photographed, sometimes in difficult, emotional situations. Using small, quiet Leica rangefinder cameras without flash units, Johnson was able to blend into the background, enabling her to photograph scenes of astonishing intimacy.
"I wasn't expecting to be in awe," she says. "If you work at Cleveland Clinic every day, I wonder if you stop seeing how extraordinary the place is. That was a good thing, being an outsider — I kept coming back and seeing it."
We hope you'll see it, too. Like the book from which the images herein are taken, the photo essay on the following pages is a visual poem to all who strive to preserve life and health.