IN GRATITUDE
Karen and Paul Dolan
Maybe the only thing that Karen and Paul Dolan love more than each other, their family and their hometown of Cleveland is a good laugh. At one point during our conversation, Karen declared: "I agree with everything that Paul said." He didn't miss a beat. "Wait!" Paul interjected. "Make sure you write that down!" We wrote down a few other things, too.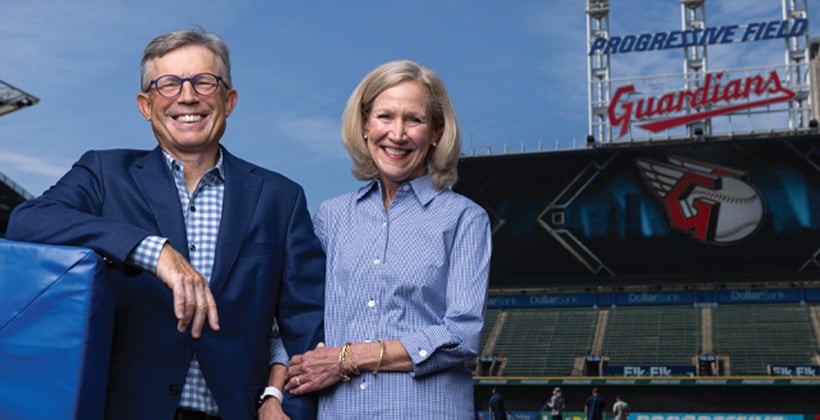 You got behind VeloSano from the get-go. Why?
PAUL: I thought it was a perfect idea. I felt we could be of great assistance as an organization,1 and it happens to fit an interest of mine: biking.
KAREN: At first, some people would say, "Velo-what?" Now it's part of the vernacular. VeloSano has been a remarkable success.
Your generosity also extends to Cleveland Clinic's Neurological Institute. What's the motivation there?
PAUL: This is particularly personal for me. My 92-year-old father has advanced-stage Alzheimer's disease. We have a history of Alzheimer's in our family.
I know so many other people with Parkinson's or ALS or MS. It seems like the prevalence of neurological diseases is growing as we're all aging. It's an enormous problem, and it's only going to get worse.
I love what Cleveland Clinic is doing with the Brain Study to address this global problem.2 And with the new Neurological Institute building, Cleveland Clinic is positioned to become a global leader in that space.3
KAREN: If we can do anything to move the needle toward finding a cure for these diseases or preventing them in the first place, we're all for it.
It's a wonder you have time for anything else, beyond the demands that must come with owning a professional sports team.
KAREN: It helps that Paul has surrounded himself with really talented people, which allows him to do things other than the day-to-day team stuff.
PAUL: A good portion of my day is usually dedicated to things that have nothing to do with what's happening in the ballpark. Although in some respects, it all kind of relates to that, too. The team is such an important community asset, and we feel that part of our stewardship of it is to engage in the community. So even when, say, I'm riding in VeloSano, I feel like I'm doing my job.
What are your overarching philanthropic goals?
PAUL: So much of what we do is built on the relationships that we have with people in the community. We've been struck by what they do, and we want to help.4
If there's a universal theme to our giving, it's really about advancing the interests of the people of Cleveland. We have so many people here who care enough to roll up their sleeves and to get involved. They're our role models.
KAREN: At this point, my main philanthropic interests are children, education and hunger. You want to try to make a difference, and part of that is being passionate about what you're doing.
Both of us were born and raised here. We've lived our whole lives in Cleveland. We're passionate about our community.5
Notes
The Cleveland Guardians are a founding partner of VeloSano, Cleveland Clinic's global fundraising movement for cancer research. The Dolan family has owned the baseball team since 2000.
Launched in 2022, the Cleveland Clinic Brain Study is reaching further than any other study to identify brain disease biomarkers and targets for preventing and curing neurological disorders.
A new Neurological Institute building, designed to deliver leading-edge inpatient and outpatient care, is set to open in 2026 on Cleveland Clinic's main campus.
The Dolans are 1921 Society members, inducted for their generous support of Cleveland Clinic.
Karen and Paul have been married 34 years. They have two adult sons.