PULSE
New Digs for Discovery
As part of the Cleveland Innovation District, Cleveland Clinic has opened the FIRST PHASE OF EXPANDED RESEARCH FACILITIES that will significantly increase laboratory research space on the health system's main campus.
In the Lerner Research Institute, 45,000 square feet of space has been remodeled to house leading-edge laboratories for several fast-growing programs, including the Center for Computational Life Sciences and the Center for Immunotherapy and Precision Immuno-Oncology. The Center for Therapeutics Discovery features floor-to-ceiling glass walls, providing a view of scientists at work. A new biosafety level 3 laboratory for sophisticated pathogen research also has been built.
In 2024, Cleveland Clinic plans to begin major construction on two new research buildings, totaling approximately 350,000 square feet. The structures will be home to the Sheikha Fatima bint Mubarak Global Center for Pathogen Research and Human Health, the largest research initiative in Cleveland Clinic's history. It will position Ohio at the forefront of pathogen research.
"These new state-of-the-art research facilities will provide the infrastructure and technology necessary to grow Cleveland Clinic's research efforts," says Serpil Erzurum, MD, Cleveland Clinic's Chief Research and Academic Officer. "They will be a tremendous resource for our scientists."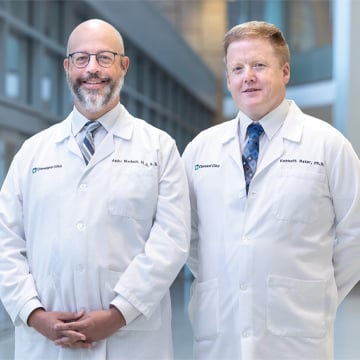 NEURO
DBS Makes a Difference for Post-Stroke Patients
A first-in-human trial of DEEP BRAIN STIMULATION (DBS) FOR POST-STROKE REHABILITATION PATIENTS by Cleveland Clinic researchers has shown that using DBS to target the dentate nucleus — which regulates fine control of voluntary movements, cognition, language and sensory functions in the brain — is safe and feasible.
The majority of participants (nine out of 12) demonstrated improvements in both motor impairment and function. Importantly, the study found that participants with at least minimal preservation of distal motor function at enrollment showed gains that almost tripled their initial scores.
Published in Nature Medicine, these findings build on more than a decade of preclinical work led by principal investigators Andre Machado, MD, PhD, and Kenneth Baker, PhD, at Cleveland Clinic.
"This gives us a potential opportunity for much-needed improvements in rehabilitation in the chronic phases of stroke recovery," says Neurological Institute Chair Dr. Machado, who patented the DBS method in stroke recovery. "The quality-of-life implications for study participants who responded to therapy have been significant."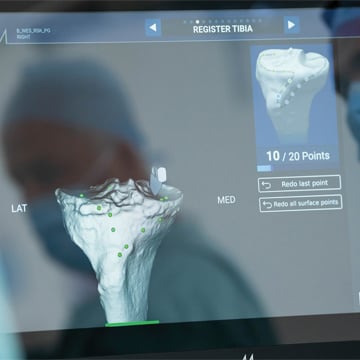 MILESTONE
Brave New Knee
Cleveland Clinic London is the first hospital in London to successfully perform a total knee replacement procedure with the assistance of an AUGMENTED REALITY (AR)-BASED SURGICAL PLATFORM.
Panagiotis Gikas, consultant orthopaedic surgeon, led the surgical team. Following the procedure to treat knee pain caused by osteoarthritis, the patient was doing well.
In recent years, AR has become increasingly beneficial in orthopaedic surgery, with significant advantages that equip the operating team with the tools to provide a more personalized approach to patient care.
Prior to the procedure, advanced imaging software was used to visualize the patient's knee joint in 3D and determine the ideal implant positioning. During the surgery, AR glasses made it possible to view the patient's specific knee anatomy in 3D.
"The advanced technology helps with planning the procedure and allows for the best positioning of the implant for each patient during the procedure," says Dr. Gikas. "The end result is tailored to the unique anatomy and specific needs of each patient."
AR has been adapted by Cleveland Clinic physician-scientists for use in a wide array of
clinical applications, including:
Joint replacement procedures, especially shoulder arthroplasty surgery.
Aortic aneurysm treatment.
Liver cancer treatment.
Total face transplant surgery.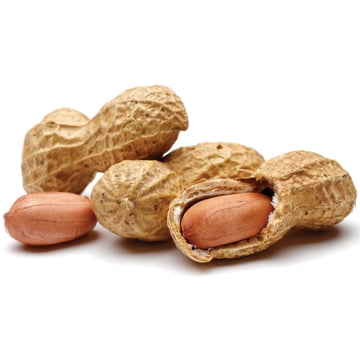 RESEARCH
Curbing Peanut Allergies
Cleveland Clinic researchers have found that starting PEANUT ORAL IMMUNOTHERAPY under medical supervision during infancy can improve a child's immune response to the food over time. The findings were published in The Journal of Allergy and Clinical Immunology: In Practice.
Cleveland Clinic is the first health system in Northeast Ohio, and one of the few in the country, to offer oral immunotherapy for babies and toddlers who are allergic to peanuts.
"We leveraged data from infants in our program to better understand the safety and efficacy of this treatment in children 12 months and younger," says allergist Sandra Hong, MD, Director of the Food Allergy Center of Excellence at Cleveland Clinic.
The study found that a majority of babies were able to safely consume peanuts after oral immunotherapy.
"Overall, this signals that age is a crucial factor to the success of this treatment," says lead author Sarah Johnson, MD, a fellow at Cleveland Clinic. "An infant's immune system is more adaptable, allowing them to develop tolerance to peanuts with less severe reactions and fewer side effects than older children."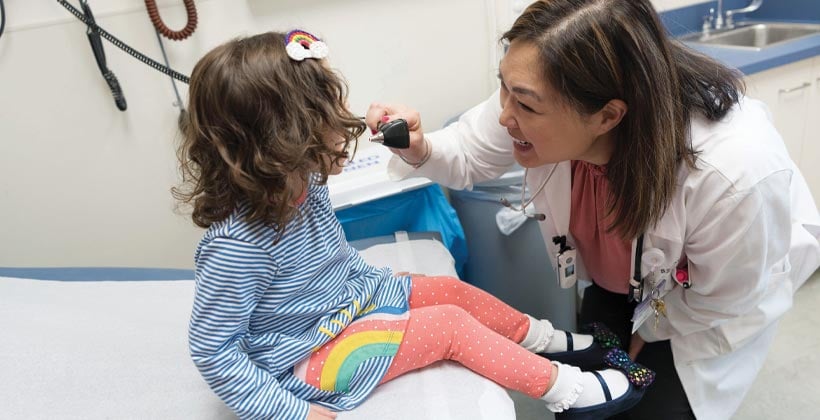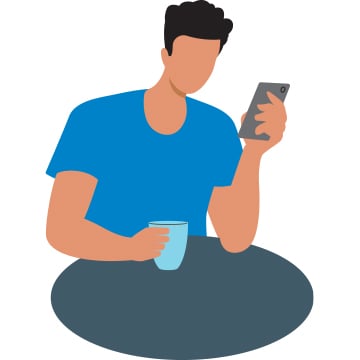 MEN'S DEPARTMENT
Hey, Guys
A new survey by Cleveland Clinic found a disconnect between how American men perceive their health and their actual health habits.
In the survey, 81% of respondents said they believe they're leading a healthy lifestyle. However, the survey results show the habits and behaviors of many men tell a different story. Among the key findings:
83% of men have experienced stress in the past six months, but most are hesitant to seek professional help.
Most men in the U.S. believe they're living a healthy lifestyle, yet:

44% don't get a yearly physical.

44% don't prioritize mental health.

49% don't keep a healthy diet.



Over half of American men aren't satisfied with their weight, yet:

27% watch TV more than five hours a day.

They spend an average of 2.3 hours daily on social media.
A national sample of 1,000 males 18 and older took the survey. It was conducted as part of Cleveland Clinic's eighth annual MENtion It educational campaign, which seeks to address the fact that men often don't mention health issues or take steps to prevent them.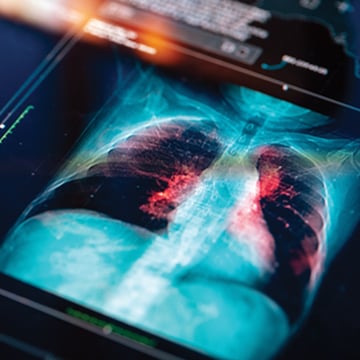 SPOTLIGHT
Accelerating Innovation
The first round of grants has been awarded from an endowed fund established with a transformational gift of $30 million from the JACK, JOSEPH AND MORTON MANDEL FOUNDATION. Funds drawn annually from the endowment are available to accelerate innovation across the following priorities:
Improve patient experience.
Promote community health.
Enhance healthcare delivery.
Advance research.
A panel led by Cleveland Clinic CEO and President Tom Mihaljevic, MD, holder of the Morton L. Mandel CEO Chair, reviewed dozens of proposals. This year, grants were awarded to eight projects, including an initiative to address disparities in access to cancer treatment and clinical trials; a renovated lounge for discharged patients awaiting transportation; and an effort to use quantum computing to develop a blood test for lung cancer. Gifts to the CEO Transformation Fund are matched to collectively support innovation across Cleveland Clinic.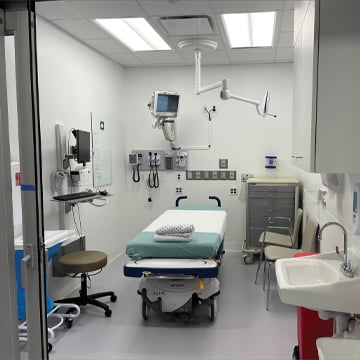 DESIGN
Emergency Makeover
Newly remodeled spaces in the emergency department on Cleveland Clinic's main campus are designed to optimize patient care. Updates were made with philanthropic support from the SAM H. AND MARIA MILLER FAMILY FOUNDATION, marking the first renovations since the emergency department opened in 1994.
Patient rooms are more functional and more efficient, complete with updated cabinetry, revamped staff workstations and additional medical utilities. Sinks also were relocated for more convenient access.
Among the other improvements are efficient LED lighting throughout the unit as well as a reorganized central area that facilitates collaboration and provides better visibility for monitoring patients.
"By improving efficiency and collaboration throughout the unit, we will be able to deliver even better patient care and increase caregiver satisfaction," says Bradford Borden, MD, Chair of the Emergency Services Institute. "We are extremely grateful to the Miller family for making this possible."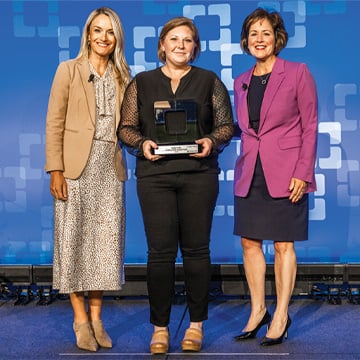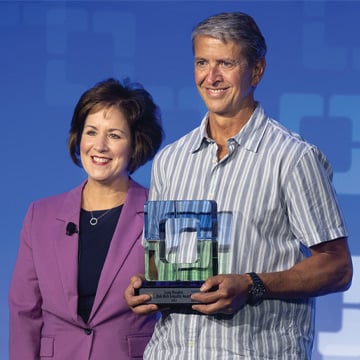 HONOR ROLL
Empathy MVPs
Two nurses were honored for their outstanding empathy skills at Cleveland Clinic's 2023 Caregiver Awards.
MEGHAN TROSKO, RN, won the Ron Weinberg Family Empathy Award. She's a hospice case manager with Cleveland Clinic Hospice.
LEON PASADYN, RN, won the Bob Rich Empathy Award. He works in the post- anesthesia care unit at Cleveland Clinic Medina Hospital.
We asked them to share a few empathy pointers:
How do you define empathy?
TROSKO: Empathy is being able to put myself in someone else's shoes and imagine living their life and experience.
PASADYN: Empathy is a central component to being an effective caregiver. It's the act of heartfelt concern, compassion and deep understanding of another person's hardships.
Which skills are most important for an empathetic caregiver?
TROSKO: Being curious is important. I'm always wanting to know more about my patients. I feel that knowing more about them as an individual allows me to give personalized care.
PASADYN: An empathetic caregiver must be emotionally aware, open-minded, genuine and selfless.
What advice would you offer to anyone who aspires to be more empathetic?
TROSKO: To be more empathetic, work on learning to listen more. Listen to the people around you, and ask questions.
PASADYN: If you aspire to improve your empathetic skill set, take a moment to remember when you were going through a difficult time. Undoubtedly, the support from others was vital in your healing journey. Always treat others with respect, in the same way that you would want to be treated.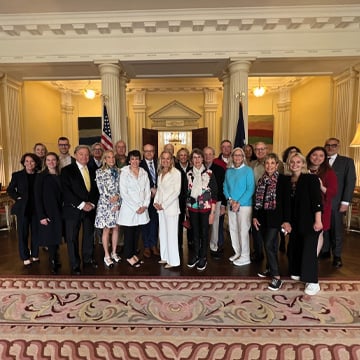 FOREIGN AFFAIRS
Seeing the Sights
More than two dozen donors from around the U.S. packed their bags for Cleveland Clinic's first ARTS & MEDICINE PATRON TRIP earlier this year, with exciting stops in England and the United Arab Emirates. In addition to behind-the-scenes tours of Cleveland Clinic's hospitals in London and Abu Dhabi, the excursion included exclusive viewings at museums and art galleries with artists and specialists, as well as receptions with dignitaries. Additional patron trips are planned for 2024 and beyond. Interested? For more information, email giving@ccf.org.