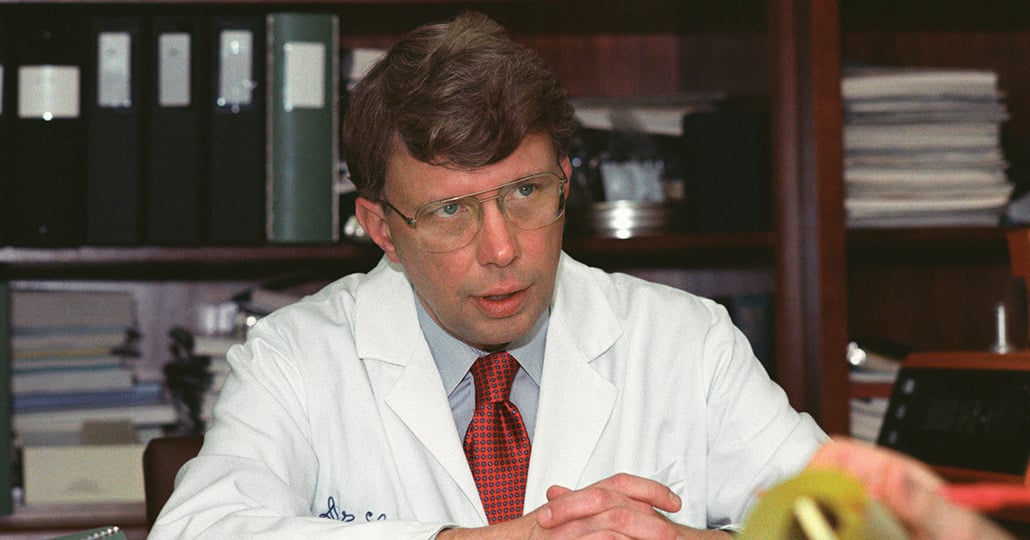 Floyd Loop, MD, led Cleveland Clinic from 1989 to 2004.
Before he became Chairman and CEO, he made a name for himself as a heart surgeon, the specialty for which the health system is most famous. His study documenting the benefits of using arteries from inside the chest cavity — which lasted much longer than veins from the leg — for bypass surgery was game-changing, reducing the need for "redo" operations.
Among his patients were the likes of Brazilian President Joao Baptista Figueiredo to Cleveland Browns owner Art Modell. But as one profile noted, Dr. Loop also treated "electricians from Euclid" (a Cleveland suburb), giving his personal phone number to everyone and telling them to call anytime. Even after he took the reins of Cleveland's largest employer, "Dr. CEO" kept a schedule in the operating room for a decade.
It was said that the "keenly analytical" Indiana native had two wives: Cleveland Clinic and Bernadine Healy, MD, the Chair of Cleveland Clinic's Research Institute. Dr. Loop wooed Dr. Healy with Raymond Chandler. "He told me I was 'a blonde to make a bishop kick a hole in a stained-glass window,'" recalled Dr. Healy, revealing another side to the often blunt administrator who could come off as aloof.
Though he had no formal business training, Dr. Loop was a nimble, decisive manager. "The issues queue up in front of him and he dispatches them like a swordsman in a movie," said a colleague. One of his first challenges: right Cleveland Clinic's finances, which had dipped into the red. He did that and more, creating the Cleveland Clinic health system of regional hospitals and other affiliated facilities, establishing the Cole Eye Institute and welcoming the first class to Cleveland Clinic's Lerner College of Medicine, an institution for training "physician investigators" devoted to research and innovation.
"[W]e need to think strategically," Dr. Loop said. "We must adapt or go the way of the dinosaurs."