THE 1920s
The Doctors Will See You Now
Cleveland Clinic opens February 26, 1921.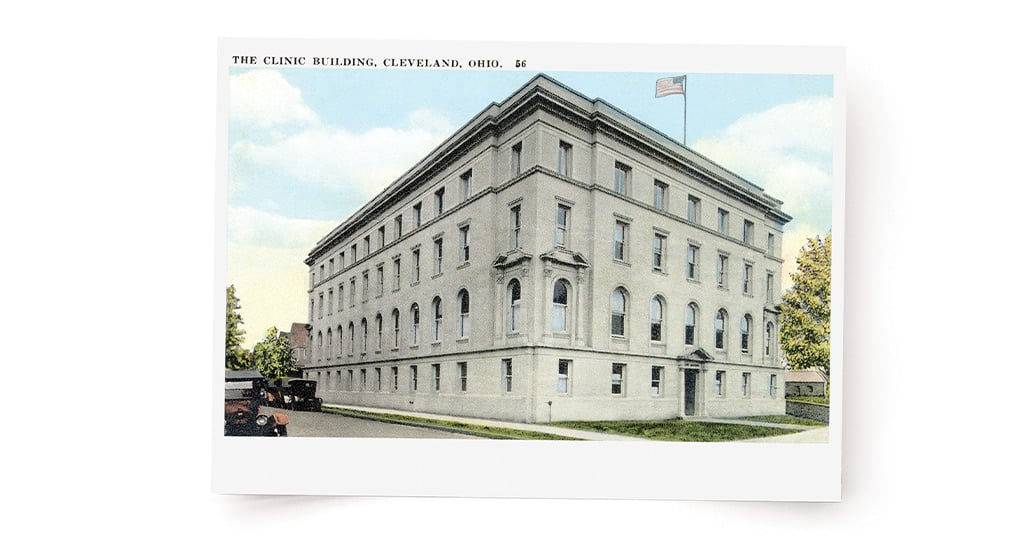 The gleaming white-brick edifice with Italianate windows was a monument to a new team-based approach to healthcare.
In addition to the registration desk, the first floor included a pharmacy and clinical and X-ray laboratories. The second floor accommodated a waiting area — complete with wicker chairs and potted ferns — and consulting rooms. Examination rooms and staff offices were found on the third floor. On the fourth floor were more offices, biophysics labs, a library and the photo/art department. A skylight topped the magnificent atrium in the center of the building, designed by renowned architect Frank Ellerbe.
This was the first home of Cleveland Clinic, which opened February 26, 1921, on the corner of Euclid Avenue and East 93rd Street in Cleveland.
The four physicians who founded Cleveland Clinic enjoyed close friendships with brothers William Mayo, MD, and Charles Mayo, MD, who had started their own not-for-profit multispecialty group practice, the Mayo Clinic, in Minnesota. So it was only fitting that Dr. William Mayo should be the keynote speaker at Cleveland Clinic's dedication ceremony.
"The opening of the Cleveland Clinic is an epoch-making step in American medical progress."

Dr. William Mayo
Each of Cleveland Clinic's founders also addressed the crowd of 500 invited guests.
Frank Bunts, MD, spoke of Cleveland Clinic's origins. "Fortunately … each of us had the opportunity to serve in the Army," he said. "[I]t was during that service — with the inspiration of the Base Hospital organization, in which each could call to his aid every branch or specialty of medicine and surgery — that the real insight into the benefits to be gained by coordinated work was borne in upon us, and we began to formulate before our return to the United States our plans for the future."
The Clinic Building itself was the focus of remarks by William Lower, MD. "The aim of the founders of the Clinic, which has been so clearly comprehended by the architect and ably carried out by the builders, has been a plan of construction which would assure the highest efficiency to each department," he said, "and thereby the most efficient operation of the Clinic as whole for the ultimate welfare of the patient."
John Phillips, MD, enumerated the myriad strengths brought together there under one roof. "[W]e have specialists in the diseases of children; in diseases of the nose, throat and ear; in diseases of the eye; in diseases of the stomach; in diseases of the heart; in diseases of the central nervous system; and in diseases of the genito-urinary tract," he said.
The last of the founders to speak was George Crile Sr., MD, who summarized the fledgling organization's care, research and education priorities. He also extolled the virtues of its group-practice model. "[E]ach of us," he said, "will accept as our reward for work done his respective part in the contribution of the group, however small, to the comfort, the usefulness and the prolongation of human life."