THE 1970s
The Expanding Man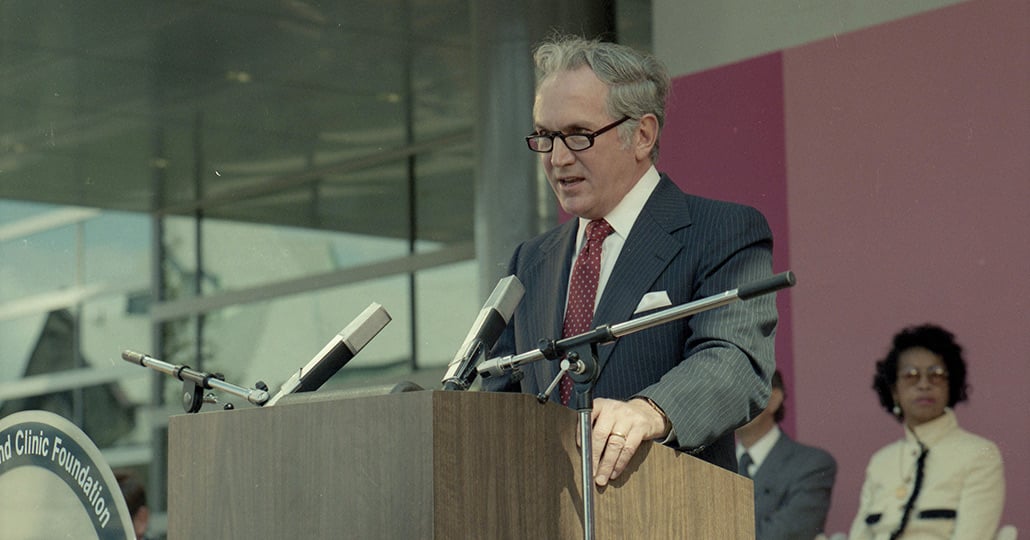 If the life of William Kiser, MD, were a movie, it would be shot in far-flung locales, including Morocco, where the Air Force flight surgeon managed a dispensary.
The Cleveland Clinic chief, who distinguished himself as a urologist and kidney transplant specialist before he became the third Chairman of the Board of Governors in 1977, always had his eyes on the horizon.
Dr. Kiser, a West Virginia native and Harvard-trained administrator, headed up a $160 million expansion project that moved at warp speed. Beginning in 1981, Cleveland Clinic's main campus grew from 17 buildings on 62 acres to 30 buildings on 100 acres in just five years. The most striking addition was the Crile Building, a 12-story stepped pyramid of glass and granite designed by famed architect Cesar Pelli. Dr. Kiser followed up with the first Cleveland Clinic location outside Ohio: Cleveland Clinic Florida in 1988.
Picking up where his predecessor, Carl Wasmuth, MD, LLB, left off, Dr. Kiser further advanced organ transplant programs at Cleveland Clinic. He also weighed in on regulations governing organ donation and helped to establish the Ohio Solid Organ Transplant Consortium.
He embraced healthcare marketing, too. Cleveland Clinic was one of the first healthcare providers to advertise, with its inaugural newspaper ad appearing in 1980.
For Dr. Kiser, a dozen years at the helm brought no shortage of headaches. "If I had one crisis per hour in any one day, it was a good day," he recalled. He received an extended standing ovation from a gathering of some 500 caregivers in 1989, when he announced his resignation.
"I'd vote against it if I had a vote," said one trustee. "He is loved by everybody."